'Wolfenstein 2: The New Colossus' release date, trailer and gameplay revealed at Bethesda E3 2017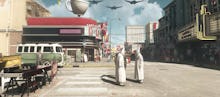 Wolfenstein 2: The New Colossus was officially unveiled during Bethesda's E3 2017 event. Here's what we learned about the new game, which launches on Oct. 27, 2017.
Wolfenstein 2: The New Colossus takes place in a version of the United States controlled by a technologically advanced version of the Nazi empire. It appears to pick up a bit after the previous game left off, introducing us to an America where German lessons are mandatory and Ku Klux Klan members walk the street while wearing their robes.
Our hero and protagonist, William "B.J." Blazkowicz, is back, but he's got a few new tricks up his sleeve. In the trailer he's able to quickly create a metal barrier around his head, though it's unclear where he got that technology or exactly how it works. Also, he "has kids on the way."
Overall, Wolfenstein 2: The New Colossus looks like it will feature the same excellent first-person-shooter gameplay we enjoyed in The New Order, along with some new enemies, settings and a thrilling new story line.
October can't come soon enough.
More news from Bethesda BE3 2017
Check out more of our coverage from the Bethesda BE3 conference, including a look at what's coming for Elder Scrolls Legends and Dishonored 2. We've even got a look at the new VR experiences for Doom and Fallout 4. But if you really want to be blown away, make sure you check out The Evil Within 2.