E3 2017 'DOOM VFR': New Bethesda trailer highlights upcoming VR title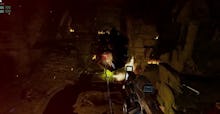 Bethesda's taken the stage to introduced its upcoming virtual reality plans at E3 2017. Along with Fallout 4 VR, the company showed fans the VR version of Doom. The game will be titled Doom VFR.
Bethesda introduced the virtual reality Doom experience, Doom VFR, at its pre-E3 announcement on Sunday. The company had little to say about the game but brought players visuals of gameplay, instead.
More news from Bethesda BE3 2017
Check out more of our coverage from the Bethesda BE3 conference, including a look at what's coming for Elder Scrolls Legends and Dishonored 2. We've even got a look at the new VR experiences for Doom and Fallout 4. But if you really want to be blown away, make sure you check out The Evil Within 2 and Wolfenstein 2: The New Colossus.