'Fallout 4 VR' release date and gameplay trailer revealed at Bethesda E3 2017 event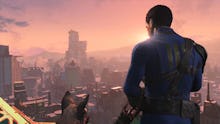 At E3 2017, Bethesda announced a release date window for Fallout 4 VR after originally revealing the virtual reality port a full year ago at E3 2016. It'll be arriving on HTC Vive in October.
Here's the minute-long clip Bethesda released during its press conference to show it off.
Rather than just a lazy port to VR, there seems to be a lot of functionality added to the game specifically for touch controllers. Whether or not they've conquered that queasy feeling that comes with free movement in VR games isn't known yet. We're interested to see how the game handles locomotion, and whether or not the entire game will really be available or if it will be another disappointing set piece title.
Either way, we should learn more soon, and hopefully we'll get a specific release date for Fallout 4 VR shortly.
More news from Bethesda BE3 2017
Check out more of our coverage from the Bethesda BE3 conference, including a look at what's coming for Elder Scrolls Legends and Dishonored 2. We've even got a look at the new VR experiences for Doom and Fallout 4. But if you really want to be blown away, make sure you check out The Evil Within 2 and Wolfenstein 2: The New Colossus.