Ocean City, Maryland, mayor issues emergency ordinance against topless sunbathers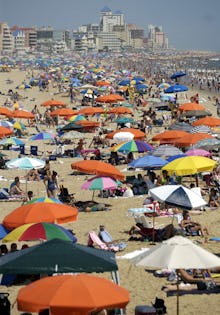 Aspiring topless sunbathers in Ocean City, Maryland, will have to keep their shirts on for now after the Ocean City Council voted Saturday to pass a unanimous emergency ordinance that prohibits public nudity, WBALTV reported.
"There is no constitutional right for an individual to appear in public nude or in a state of nudity," the ordinance states. "Whatever personal right one has to be nude or in a state of nudity that right becomes subject to government interest and regulation when one seeks to exercise it in public."
The controversy reportedly kicked off last summer when Chelsea Covington, a Topfreedom advocate, filed a brief with the Maryland Attorney General's Office as part of an argument that the Maryland constitution should guarantee equal protection regardless of gender.
If men can go topless, Covington argues, why can't women?
While the Ocean City Beach Patrol awaits a formal opinion from the attorney general, it has said that it will give topless beach-goers a wide berth.
Intense public interest in the debate spurred Ocean City government officials to release a statement addressing the issue on Facebook.
On Saturday, Mayor Rick Meehan issued an emergency ordinance laced with creepy language about the "physiological differences" between men and women.