Donald Trump says "economic enthusiasm" is at "record levels." But average job growth is down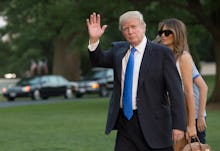 President Donald Trump touted economic growth over the weekend, tweeting Sunday that "business and economic enthusiasm" are at "record levels."
"All of our work, including the passage of many bills and regulation-killing executive orders, now kicking in!" the president boasted in a tweet.
And then: "The #FakeNews [mainstream media] doesn't report the great economic news since Election Day."
But the "great news" really stops at the fact that the stock market is up. In fact, average monthly job growth is down from 2016, according to Bureau of Labor Statistics data, which tracks monthly job growth.
In 2016, the economy gained an average of nearly 187,000 jobs per month, according to the BLS. So far in 2017, the economy has averaged a gain of 162,000 jobs per month, according to the BLS.
What's more, this is data Trump used to call fake, saying the unemployment rate was higher than the data suggested.
Now, he's using the data to claim the economy is turning around.