Why is Jennifer Esposito leaving 'NCIS'? Actress explains reason behind departure.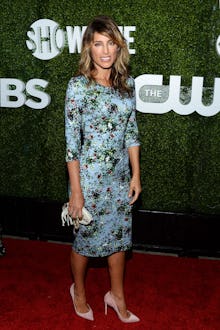 After just one season on NCIS, Jennifer Esposito has left the CBS series.
Esposito joined the drama in season 14, playing former agent Alexandra "Alex" Quinn. Alex had left being an agent behind until Leroy Gibbs, played by Mark Harmon, convinced her to come back and join his team.
On Friday, Esposito confirmed on Twitter that she would not be reprising her role in season 15. She made it clear she is not sick. According to the actress, the reason for her departure appears to be that she wasn't meant to be on the show very long.
Although her time on the show was short-lived, it appears Esposito made a very memorable impression for NCIS fans. Viewers aren't happy about her exit from the series:
The actress also told Deadline that she loved her time on NCIS and enjoyed working with the cast and crew.
"It was a great experience. I could not have asked for a better opportunity than to work with the NCIS cast and producers," she said.
But it doesn't look like Esposito is wasting any time moving onto the next project. She's set to star in Speed Kills, directed by John Luessenhop. The film, which also stars John Travolta, is about speedboat racer Don Aronow.
For fans who can't wait for Speed Kills, they can also catch Esposito on Showtime's The Affair.
Mic has ongoing TV coverage. Please follow our main TV hub here.