Here are 4 key questions Jeff Sessions could face at his upcoming Senate testimony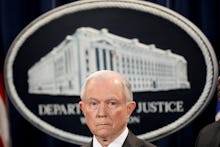 Attorney General Jeff Sessions will testify before the Senate Intelligence Committee on Tuesday about Russia. Sessions' decision came as a surprise to senators, and means we're staring down yet another week consumed by Russia-related allegations against the president and his allies.
Sessions will certainly face questions about his involvement in James Comey's firing and President Donald Trump's alleged interference in the FBI investigation into Michael Flynn. He could also be asked about a report that Comey, the former FBI director, told senators Sessions may have had a third undisclosed meeting with the Russian ambassador.
Democrats are demanding the testimony be public. They contend that Sessions has nothing classified to share and needs to answer to allegations posed by Comey.
Sessions' testimony comes at a low point in the relationship between the president and attorney general. Sessions reportedly offered to resign after his recusal from the Russia investigation enraged Trump. Now, the attorney general's answers could lead to further frenzied parsing of answers delivered to the intelligence committee.
Here are four questions Sessions could face:
• How many times did you meet with the Russian ambassador? (Some Democrats contend Sessions has already perjured himself on this answer. They may seek another opportunity to bring down Trump's attorney general.)
• Why did you participate in Comey's firing if you had recused yourself from the Russia investigation? (It's a question posed by Comey himself last week and, with Sessions testifying under oath, one that could implicate Trump.)
• Did you know the president was going to ask Comey to halt the investigation into former national security adviser Michael Flynn? (If Sessions distances himself from the president on this point, it will make Trump look more isolated in his push to meddle in the investigation.)
• Comey hinted at "problematic" connections between Sessions and Russia. What are they? (An answer to this question could further fuel claims that Sessions, a member of Trump's inner circle, has ties to the Russian government.)
A final thought: I asked you all last week whether you thought Comey broke the law by leaking his memos of meetings with Trump to the media. He didn't.
This is Mic's daily read on Donald Trump's America. Welcome to the political newsletter that is thinking, really, another Sessions hearing?
Want to receive this as a daily email in your inbox? Subscribe here.
We're seeking your support to expand our coverage of Donald Trump. As little as a $1 a month will give you access to an exclusive group to interact with Mic journalists and grow our reporting. Learn more here.
What we're watching:
Today: Four questions Jeff Sessions could face on Tuesday.
More: Two states are suing the president.
Even more: Progressives are convinced their cause will win out.
Trump's agenda today: Lunching with Vice President Mike Pence. Hosting the college football champion Clemson Tigers.
"Unprecedented constitutional violations" result in lawsuit
The attorneys general of Maryland and Washington, D.C., are suing Trump over millions of dollars he has received from foreign governments since becoming president. The lawsuit contends the president has violated the "emoluments" clause of the Constitution — which says federal officials cannot receive gifts from foreign governments.
The case will hinge on whether payments for services from foreign governments are equivalent to "presents" as outlined in the Constitution. This is the first lawsuit filed by U.S. government entities against Trump over the clause; a similar lawsuit was filed by a watchdog group a few days after Trump's inauguration.
"The left can win, and the center often doesn't"
Following a major victory for the Labour Party's Jeremy Corbyn in the United Kingdom, progressive organizers at the People's Summit in Chicago told Mic the win showed left-wing policies can triumph in elections. Summit keynote speaker Vermont Sen. Bernie Sanders told his supporters how to skirt the impact of gerrymandering. Mic's Andrew Joyce also shed light on the elections progressives say them need to win to defeat mass incarceration.
ICYMI: The DNC's new political director supported Bernie in 2016.
News and insight you cannot miss:
Preet Bharara, a former U.S. attorney from New York, said Sunday his refusal to cultivate a relationship with Trump by phone may have led to his firing.
How to be the top reply to a Trump tweet, from BuzzFeed.
Republican senators may not want to thoroughly gut the Affordable Care Act. With seven weeks to go before the August recess, that's setting off alarm bells.
Puerto Rico voted overwhelmingly to become a state. It probably still won't.