11 photos from LA Pride that show the #ResistMarch in motion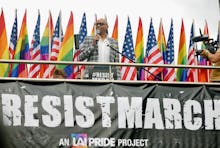 As the people of Los Angeles hit the streets on Sunday to support the LGBTQ community, the city's pride parade was replaced by the #ResistMarch.
The 2017 march was focused on opposing Trump's policies. Marchers made their feelings known with signs, shirts and the overall message of resistance.
Countless celebrities spoke at the march, including RuPaul, Margaret Cho, America Ferrera and more. The march was inspired by the women's marches that took place across the country following Donald Trump's inauguration.
Brian Pendleton, who organized this year's event, said the march was for anyone who felt that their rights were threatened under Trump.
This year, the LGBTQ community is lending our iconic rainbow flag to anyone who feels like their rights are under threat and to anyone who feels like America's strength is its diversity. The political climate we find ourselves in has driven us to galvanize and unite.
"We're people," marcher Mary Demasters told Reuters. "We deserve to be treated like people, all of us, no matter what our differences are. We're all people."
As people came together, the march delivered some powerful imagery that exemplified resistance. Check out 11 photos from Sunday's Los Angeles pride event:
Showing his support for the march, the mayor of Los Angeles, Eric Garcetti, spoke at the #ResistMarch.
Marchers expressed their resistance on signs and shirts.
Those at the #ResistMarch had some exceptionally creative signs.
This marcher used Trump's "Make America great again" slogan — but with a gay twist.
RuPaul's Drag Race contestants Eureka O'Hara and Morgan McMichaels served marchers a gag-worthy performance.
Many marchers had Trump imagery of any size and shape with them.
The #ResistMarch was a place for those feeling threatened under Trump's presidency to share their stories.
Tens of thousands of people filled the streets of Los Angeles for Sunday's march.
The signs at the event said it all.
Resist, but make it fashion.
Dana Goldberg's sign summed up everyone's feelings.
Mic has ongoing Pride coverage. Please follow our main Pride hub here.