First Look: 'Ink Master' coloring book features pages from Scott Marshall, Jime Litwalk and more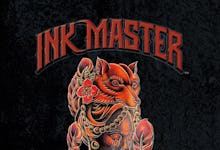 Ever dream of becoming a human canvas on Spike's Ink Master? The series is bringing fans one step closer to the stunning on-screen tattoos by partnering with Weldon Owen Publishing and Blue Streak Books for the first ever Ink Master Coloring Book — and Mic has your first look.
The Ink Master Coloring Book is composed of 87 original tattoos designed by some of the series' top competitors. Fans of the Spike competition series may recognize some of the images from challenges featured in previous seasons.
Seasons three and four competitor Kyle Dunbar is one artist featured in the coloring book. The Genesee County, Michigan, contestant came in fourth place in season three, but got a second chance to compete in season four. He was ultimately disqualified however, after getting into a physical altercation and "mad dogging" judge Chris Nunez.
Ink Master alum Jime Litwalk also has a couple designs in the book. The Orlando artist has more than 20 years of experience tattooing and is known for his "classic new skool" style. He was the runner-up on season three and competed again in season seven, where he was knocked out in episode nine.
Season five winner Jason Clay Dunn has five designs featured in the coloring book. The Montclair, California, artist initially competed on season three, where he butted heads with fellow artist Joshua Hibbard. The two returned for the fifth season, "Rivals," where they once again went head-to-head. Hibbard was disqualified in episode 11 for possession of marijuana — and Dunn went on to claim the prize.
The coloring book also pays tribute to Ink Master season four winner Scott Marshall, who died of an accidental heroin overdose in 2015 at the age of 41. The Chicago artist beat out fellow competitors Walter "Sausage" Frank and Matti Hixson in 2014 for the $100,000 grand prize and title of Ink Master.
The Ink Master Coloring Book, which also features 12 temporary tattoos, will be released June 27. And fortunately, judges Dave Navarro, Oliver Peck and Chris Nunez won't be critiquing fans on their color choice, saturation or whether they can color inside the lines.
Mic has ongoing Ink Master coverage. Please follow our main Ink Master hub here.