Melania and Barron Trump are moving into the White House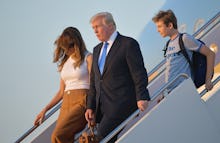 United States President Donald Trump just got two new roommates in the White House: his wife, Melania Trump, and the couple's son, Barron Trump.
For nearly the first five months of Trump's presidency, the first lady chose to stay in her former Trump Tower home in New York City while Barron, who is 11 years old, finished out the school year. But on Sunday, just in time for summer to begin, the pair reportedly made the move to the nation's capital.
Melania Trump's decision to remain apart from her husband was seen as unconventional by some. Her predecessor, Michelle Obama, moved into the White House with two young daughters immediately after her husband, former President Barack Obama, was inaugurated.
While New York is the president's hometown, the Big Apple had begun to drop not-so-subtle hints that the costs of security needed to protect the first lady and Barron — about $1 million per day, by some estimates — were hurting the city's wallet in a "bigly" way.
In May, it was announced that New York City had been awarded a $1 trillion spending deal by Congress, which included a $68 million reimbursement for local law enforcement that had been tasked with providing security to the Trump family.
"We are getting what we are owed," New York City Mayor Bill de Blasio said in a statement in response to the deal.
In a Sunday tweet, the first lady expressed excitement about her new digs, and said she looked forward to "the memories we'll make in our new home!"