6 questions we have as Jeff Sessions prepares to testify before the Senate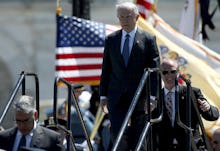 Tuesday, when U.S. Attorney General Jeff Sessions comes before the Senate Intelligence Committee to testify, will be about so much more than the attorney general himself. The entire Trump administration will come under examination as Sessions returns to the Senate for the first time since his confirmation hearing in February.
Sessions' public testimony before the Senate Intelligence Committee is expected to dredge up all the outstanding questions about alleged Trump-Russia ties. It will also scrutinize President Donald Trump's conversations with former FBI director James Comey and Sessions' role in those interactions.
How Sessions answers key questions will greatly impact what we know about the scale of communications between Trump allies and Russia. Sessions must also be careful to not misstate any facts; not mentioning his interactions with the Russian ambassador led to Sessions being accused of perjury.
Here are some of the outstanding questions Sessions could address:
Does the president have recordings of conversations with Comey or other officials?
This is perhaps the most important outstanding question Sessions could face. Recordings of conversations where Trump allegedly asked Comey for "loyalty" and to stop investigating Michael Flynn would either support or refute Comey's allegations against the president. Likewise, such tapes would provide insight into Trump's accusations that Comey lied under oath last Thursday.
As the head of the Justice Department, Sessions leads the agency that could be involved in fielding requests for tapes that Trump has suggested exist. After Comey's testimony last week, House and Senate investigators asked the White House to provide any record of conversations between Trump and Comey.
Did Sessions lie about his meetings with Russian officials?
The attorney general testified under oath that he "did not have communications with the Russians" during the campaign. Later, reports surfaced that Sessions met twice with Russian Ambassador Sergey Kislyak — including once at the Republican National Convention, an overtly political event. Comey also suggested in a private Senate hearing on Thursday that there may have been a third meeting Sessions did not disclose. (A Justice Department spokesperson said that meeting did not occur.)
In March, Democrats accused Sessions of committing perjury by not disclosing his meetings with Kislyak when asked during his confirmation hearing if anyone affiliated with the Trump campaign communicated with the Russian government. Sessions also did not mention the meetings on a national security form.
Sessions has said the meetings were not relevant to the question asked of him.
Why did Sessions have a role in Comey's firing?
Sessions recused himself from the investigation into Russian hacking and alleged ties to Trump months before Comey was fired. Trump initially blamed Comey's firing on the former FBI director's handling of the Hillary Clinton email scandal. But Trump quickly altered that talking point, saying the Russia investigation indeed factored into why he fired Comey.
That led to Comey wondering aloud during his testimony last week why Sessions, theoretically not involved in Russia-related issues, was involved in firing the former FBI director.
Did the Russia investigation factor into Comey's firing?
This is where Sessions' recusal could really come under the microscope. Because Trump said the Russia investigation factored into why he fired Comey, Sessions will face questions about why he said Comey was fired over the email investigation when the president said otherwise.
For his part, Comey said last week he believes he was fired because of the Russia inquiry.
Will the Justice Department release Comey's memos?
The department has seen multiple requests from Congress for copies of the memos Comey says he wrote after his meetings with Trump. The documents, detailed during Comey's testimony, would loom large in an obstruction of justice or impeachment case.
Given his recusal from the subject, Sessions should have no hand in determining whether those memos could be released. Then again, he still fired Comey. (See above.)
What is "problematic" about Sessions' relationship with Russia?
Also during last week's hearing, Comey said there are facts that are "problematic" to Sessions being involved with the Russia inquiry that he could not discuss publicly. The attorney general is sure to face questions on what Comey meant by that statement. Sessions could dodge, but he sought the public opportunity to address the allegations Comey put forward, so there's reason to expect he will be forthright in his testimony.