'Pokémon Go' Playground Mode: IOS 11 release date will bring new AR update to the game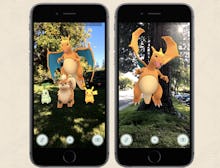 Niantic is gearing up for some big Pokémon Go events to celebrate the game's one-year anniversary this summer, but the company has something even more exciting planned for the fall. Pokémon Go AR Playground mode will bring new augmented reality features to the app once iOS 11 arrives later this year.
Pokémon Go Playground Mode: What iOS 11 means for AR
In a previously overlooked blog post published on June 5, Niantic details how iOS 11 will enable new AR features in Pokémon Go:
Utilizing this exciting advance in AR, we are working to create new, fun and innovative ways to place Pokémon in the world around you, to view Pokémon, and to use your phone camera to capture the moment. The digital world will overlay the real world in more detailed and accurate ways and you will be able to interact with Pokémon in a more immersive and life-like fashion.
If you're more of a visual learner, check out this demo video from Apple's WWDC 2017 event, where the new AR capabilities for iOS 11 were first announced.
You can see that the Pokémon is able to interact more directly with the environment to create a more realistic experience. That's a step up from the current Pokémon Go AR design, which simply superimposes the Pokémon over your camera view without adjusting based on what you're looking at.
There's no official word on when Pokémon Go AR Playground mode will launch, but it should come some time after iOS 11 is released this fall.
More Pokémon Go news and updates
Check out Mic's Pokémon Go guides on how to get stardust, how to determine how long it will take you to reach level 40, the kind of Pokémon you get from 10-kilometer eggs, how to create new PokéStops, how to maximize your chances of catching Pokémon and how PokéStops distribute Pokémon eggs. Also check out how to catch Gen 2 baby Pokémon, our analysis of post-balance update Chansey and Rhydon and everything you need to know about finding the long-awaited Pokémon Ditto.