Is Ben Platt leaving 'Dear Evan Hansen'? Here's what we know about the Broadway star.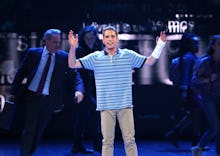 Ben Platt won a Tony Sunday for best actor in a musical for his breakout performance in the title role of the critically acclaimed Dear Evan Hansen. The show itself won another five Tonys — including best musical — and anyone who knows Broadway at all knows that means tickets will become even more impossible to get than they already are.
In fact, based on reviews, ticket prices and advanced ticket sales, Dear Evan Hansen is well on track to follow in the footsteps of musical giants like Hamilton and Book of Mormon. With that said, many have concluded its success revolves around lead actor Ben Platt, whose contract is up at the end of November.
While it's possible for Platt's contract to be renewed, the question is whether the 23-year-old actor can manage another year of playing such a challenging role. The show revolves around Evan Hansen, a 17-year-old outsider who's riddled with anxiety and experiences a rollercoaster of emotions throughout the story. Not only has Platt met the challenge of such a role, according to critics, he far surpasses it every night, which, needless to say, takes its toll on the actor.
Platt told Page Six that he doesn't mind living a "monkish existence" to keep his body and mind in the right condition to tackle the role every night, but a year's a long time to keep that up.
Meanwhile the show's creators credit much of the show's success to their lead actor, so it's likely unnerving for them to imagine the show without him.
"I've never met an actor who has such emotional access," Steve Levenson, the show's book writer, told the New York Times. "Yet every night, as intense as the role is internally, he hits each moment exactly the same. He's technically perfect, every time. I find it a mystery. He really is a unicorn."
Platt has not alluded to a desire to leave the show anytime soon, but, anyone who wants to see the show with this unicorn best get tickets before the end of November, otherwise it might be a totally different experience.
Mic has ongoing Broadway coverage. Follow our main Broadway hub here.