Delta continues to sponsor theater that depicted Julius Caesar as then-President Obama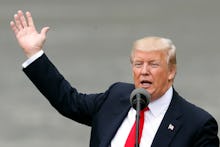 Though Delta Airlines made headlines Sunday after pulling funding from a New York theater company over its decision to depict assassinated Roman tyrant Julius Caesar as current U.S. President Donald Trump, the airline did not pull its sponsorship from another theater that also depicted a grisly demise for a sitting president in the exact same role in the exact same play.
The only apparent difference? That production of Shakespeare's Julius Caesar — mounted in a Minneapolis theater more than five years ago — depicted then President Barack Obama as the slain leader who died at the hands of those he trusted most.
Following outrage sparked by a tweet from Donald Trump Jr., Trump's son, a spokesperson for Delta tweeted that the airline would be pulling funding from the Public — the theater currently mounting the Trumpesque production of Julius Caesar — effective immediately, citing concerns that the "graphic staging" of the play "crossed the line on the standards of good taste" and that the production "does not reflect Delta Airlines' values."
"No matter what your political stance may be, the graphic staging of 'Julius Caesar' at this summer's Free Shakespeare in the Park does not reflect Delta Air Lines' values," Delta said in a four-tweet statement.
But Delta offered no such admonition of the Guthrie Theater in Minneapolis, which mounted a production of the Shakespeare play that depicted Julius Caesar as Obama. According to Kathy Kukielka, director of Institutional Giving at the Guthrie, the airline was donating anywhere from $100,000 to $249,000 to the theater annually at the time of the production. It continues to donate to the theater at this level.
Delta's decision to withdraw funding drew backlash from those who criticized its choice as a cowardly.
Delta's decision — joined by Bank of America — to withdraw funding from the Public's production of Julius Caesar comes on the heels of two high-profile punishments for media personalities who some argued crossed the line in their criticisms of Trump. CNN came under fire for its decisions to oust Reza Aslan on June 9 for calling Trump a "piece of shit" on Twitter. In May, the network also fired comedienne Kathy Griffin after a widely criticized photo shoot in which she held the decapitated head of Donald Trump.
Mic has reached out to Delta Airlines for comment on why it did not withdraw sponsorship from the Guthrie in 2012 for depicting Obama the same way the Public depicts Trump. The airline did not immediately respond.
June 12, 2017, 1:11 p.m.: This story has been updated.