'The Mummy' Easter Eggs: This is how the 2017 film is connected to the Brendan Fraser version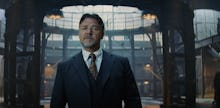 Not a lot of people went to see Tom Cruise's The Mummy reboot over the weekend. Unfortunately, that means some fans missed out on an Easter egg that links the film to the 1999 Brendan Fraser and Rachel Weisz version.
In the movie, Nick Morton and Jenny Halsey, played by Cruise and costar Annabelle Wallis, visit the London headquarters of Prodigium, the secret group run by Dr. Henry Jekyll (Russell Crowe) that studies monsters.
In a twist, Jekyll eventually becomes Mr. Hyde and attacks Nick. Jenny, in an attempt to free Nick from the hands of Mr. Hyde, uses a book to bash him over the head. What book, exactly? Well, it's the Book of the Dead, the same book from the 1999 version of The Mummy.
Here's a clip from the Fraser version of The Mummy that features the book used in the reboot:
When asked about the homage to the 1999 film, director Alex Kurtzman said it was a must. "You have to pay homage and tribute to everything that came before," he told Digital Spy.
For him, the scene was about paying respect to the films and the filmmakers that came before. "To deny their existence in any way, I think would have been incredibly rude," Kurtzman said. Does this mean Fraser's Rick O'Connell exists in the new Mummy universe? Possibly.
A big fan of the Universal monsters, Kurtzman felt that including the Book of the Dead from the original movie acknowledges the previous movies' existence.
So, all of those films are part of the history of the Universal monsters, and as such I thought, rather than say it's not part of the canon, let's say, 'No, it is part of the canon; we're just taking it somewhere new.'
The Cruise reboot is part of Universal Pictures' planned monster universe. While The Mummy didn't perform very well domestically over its first weekend, the studio still has plans for several monster movies for their Dark Universe — including Frankenstein, Bride of Frankenstein, Dracula, Creature from the Black Lagoon, Phantom of the Opera, Hunchback of Notre Dame and Invisible Man.
Mic has ongoing movie coverage. Please follow our main movie hub here.