Trump's order might be blocked, but traveler visas from majority-Muslim countries are declining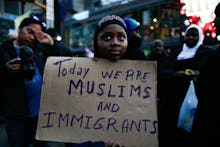 Federal courts have halted President Donald Trump's executive order restricting travel from six majority-Muslim countries, but State Department data reveals that the number of visas issued for travelers from the countries targeted in the immigration order are dramatically plummeting, CQ Roll Call reported. The rate of refugee resettlement into the United States has also seen a dramatic decline.
In March, according to data released by the State Department, there were 2,551 nonimmigrant visas issued to nationals from the six Muslim-majority countries banned in the order: Iran, Libya, Sudan, Somalia, Syria and Yemen. In April, there were only 2,013 visas issued to travelers from those countries. According to Roll Call, during the 2016 fiscal year, an average of 4,454 visas were issued per month for foreign nationals from those six countries.
Other countries have also seen a decline in the number of U.S. visas issued. Pakistan, a Muslim-majority country not listed in the order, has seen a staggering decline in visas. Under the Trump administration, Pakistanis were only issued 3,973 visas in March and 3,925 in April, the Times of India reported. This is a 40% decline compared to the Obama administration's monthly average of 6,553 visas issued to Pakistanis. However, India — a neighboring Hindu-majority country — saw a 28% increase in nonimmigrant U.S. visas issued to nationals in March and April.
Of the 6.225 Syrian refugees expected to arrive in the US since Oct. 1, only 1,341 have entered the country since Trump took office. The New York Times reported that the State Department has capped refugee admittance due to budget constraints, but those limitations have been lifted.
In addition to reports of some U.S. citizens with Muslim sounding names losing their global entry status, the Trump administration has implemented new "extreme vetting" procedures for visa applicants.
Starting May 25, a new State Department rule grants officials the authority to ask for five years' worth of social media profiles and 15 years' worth of biographical information as part of the visa screening process for all "immigrant and nonimmigrant visas applicants who have been determined to warrant additional scrutiny in connection with terrorism or other national security-related visa ineligibilities," ABC News reported. It is unclear whether these determinations for "additional scrutiny" are based on nation of origin or religion, but the department said it would not use social media profiles to discriminate based on nationality, religion, race, gender, sexual orientation or political views, according to ABC.
Throughout his election campaign and presidency, Trump has called for additional "extreme vetting" of Muslim travelers to the U.S. On Jan. 27, Trump signed the first immigration order.
After the courts issued a halt on Trump's ban, the administration implemented another executive order on March 6. This time the order banned nonimmigrant visa holders from six Muslim-majority countries, removing Iraq from the list. On Monday, the 9th Circuit Court of Appeals ruled that the ban "exceeded the authority delegated to [Trump] by Congress." And so, once again, the courts blocked the order.