New Jersey high school suspends yearbook advisor connected to censoring out Trump apparel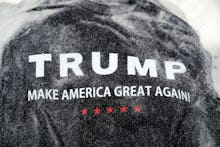 The New Jersey high school under fire for editing two students' yearbook photos to erase President Donald Trump's name from their clothing suspended the yearbook's advisor Monday, the Associated Press reports.
Wall Township Public Schools Superintendent Cheryl Dyer told News 12 New Jersey that the teacher and advisor remains suspended while the district continues investigating who censored the photos and why.
Wall High School juniors Grant Berardo and Wyatt Dobrovich-Fago both wore shirts displaying Trump's "Make America Great Again" slogan for their class photos. However, when they received their yearbooks in June, they noticed the signature MAGA logo was missing.
Additionally, Dobrovich-Fago's sister, Montana, submitted a Trump quote to caption her freshman class president photo — but the line didn't appear in the printed yearbook, CNN reported.
"I sent it to my mom and dad, just like 'You won't believe this.' I was just overall disappointed," Berardo told the Asbury Park Press. "I like Trump, but it's history, too. Wearing that shirt memorializes the time."
Wall Township Public Schools Superintendent Cheryl Dyer told the Press she was "disturbed" by the situation, noting the district is unsure whether the school or the yearbook's photography company is responsible. She also said the school would only censor clothing if it referenced drugs, alcohol or violence, which would break the school district's dress code.
"We were not aware of it until the books were distributed, we do not condone it and we working on a remedy to the issue," she told CNN.
Grant Berardo's father, Joseph Berardo, told the New York Post he made sure his son's T-shirt met the school's clothing regulations when he left the house for picture day last fall. When the yearbook came out showing Grant in a plain blue T-shirt, rather than one stamped with Trump's logo, Joseph Berardo was confused and disappointed.
"Don't you go to school to debate this stuff — at the collegiate level, at the high school level?" Joseph Berardo told the Press. "What's frustrating to me is that this was the first election he took interest in, but what message did the school send?"
Joseph Berardo also told the Post that other students' graphic T-shirts, such as one featuring Led Zeppelin and another for the New Jersey Devils, were not censored. He also noticed a student wearing a Reagan-Bush tee in a group photo and remembered seeing students wearing Barack Obama apparel in previous yearbooks
Other students across the country have worn clothing supporting Trump in yearbook photos without facing censorship, such as Twitter user @kachninja's daughter.
"The yearbook is like a time capsule, and to be able to look back and see part of history was important to my daughter," the woman said in a message to Mic.
Both families would like the school to redistribute yearbooks with the logos and quotes included, free of charge.
"And I want a letter from the administration explaining why the yearbooks are being reissued, and it should be used as a teaching moment related to the First Amendment in civil discourse," Joseph Berardo said, according to the Post.
Wall High School, Grant Berardo and Wyatt Dobrovich-Fago did not immediately respond to Mic's requests for comment.
June 12, 2017, 1:55 p.m.: This story has been updated.