3 key takeaways from day 6 of the Cosby trial: Closing arguments wrap, jury deliberations begin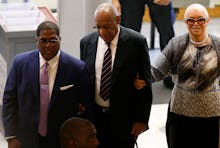 One week after it began, Bill Cosby's sexual assault trial moved to closing arguments: The sixth day of court proceedings saw the defense rest its case, capping a week of testimony during which 13 witnesses took the stand, but never Cosby himself. Jury deliberations are now underway.
During the first five days of the trial, the court heard from Andrea Constand, the woman whose allegations form the basis of the case against Cosby. Constand maintains that Cosby drugged and sexually assaulted her at his home in 2004, but has been barred from speaking publicly about the incident for more than a decade, per the terms of a 2006 settlement.
Constand testified that the 79-year-old comedian gave her three blue pills that left her feeling first woozy, then "frozen." The defense subjected Constand to a grueling cross-examination in which attorneys Angela Agrusa and Brian McMonagle hammered upon alleged inconsistencies in Constand's prior testimony and attempted to paint her as an unreliable witness.
The prosecution called a number of other witnesses — Constand's mother; Kelly Johnson, another woman who described an eerily similar encounter with Cosby; a clinical psychologist who spoke to typical behavioral patterns in sexual assault survivors; a toxicologist — who corroborated Constand's testimony. It also introduced damning transcripts from a 2005 deposition, in which Cosby discussed his habit of giving women Quaaludes and admitted to penetrating Constand with his fingers. On Friday, the prosecution rested its case.
Here are the big takeaways from Monday's proceedings.
1. Camille Cosby made her first court appearance on the final day of testimony.
During the first week of his trial, Cosby arrived at the Montgomery County Courthouse in Norristown, Pennsylvania, on the arm of various celebrity friends — Keshia Knight Pulliam, the actress who played Rudy Huxtable on The Cosby Show; former costar Sheila Frazier; comedians Joe Torry and Lewis Dix — while his wife, Camille, remained conspicuously absent. On Monday morning, however, Camille escorted her husband into court and sat behind him throughout the proceedings.
As the New York Times reported, Camille has previously defended her husband and his character against allegations of serial sexual assault. That she did not appear in the courtroom could have signaled to jurors "an unwillingness to sit and listen to very unpleasant truths," former federal prosecutor Joseph McGettigan told the Times.
Cosby's publicist, Andrew Wyatt, previously told CNN that, whatever the "optics" might suggest, Camille's decision not to attend the trial was not a sign of flagging support. Rather, he explained, the comedian wanted to shield his family "from being attacked by this media circus out here."
2. The defense rested its case — without Bill Cosby taking the stand.
On Monday morning, Cosby told Judge Steven O'Neill he would not take the stand. On Friday, Wyatt suggested to the New York Times that the comedian might make a last-minute decision to testify, but the generally held expectation was that he would stick to silence. The defense called only one witness: Sgt. Richard Schaffer, who oversaw the original investigation into Constand's accusations in 2005.
The defense then rested its case, but only after O'Neill denied its request to call a second witness: Marguerite Jackson, an adviser at Temple University, Cosby's alma mater and Constand's employer at the time of the alleged assault.
Had Cosby taken the stand, he could've proved an effective — if unruly — witness: As Wes Oliver, a professor at Duquesne University School of Law, told the Associated Press, Cosby's experience as an actor could have been "fantastic" in terms of compelling testimony, but would likely have led to the admission of "a whole lot of cross-examination that they [the defense] fought really hard to keep out."
As CNN pointed out, it's on the prosecution to prove their case beyond a reasonable doubt: a defendant is innocent until proven guilty. Because Cosby did not speak, though, the jury is left with what he told authorities in 2005 —which, as mentioned, did not make him look particularly good. Rather, Cosby's earlier deposition suggests that the comedian often gave women drugs to make them more receptive to his sexual advances.
3. In closing arguments, the defense painted Constand as a liar while prosecutors pointed to Cosby's own words.
With no more testimony left to hear, prosecution and defense attorneys moved to closing arguments. First up: McMonagle for the defense, whose theatrical argument — to borrow Jezebel's synopsis — distilled down to, "She's a liar who wanted it!"
McMonagle reportedly went all in on the discrepancies between Constand's prior depositions and her testimony at trial, calling her accusation a "stone-cold lie," according to the Washington Post. He apparently insinuated that Constand was not just aware that Cosby wanted a sexual relationship with her, but that she was a willing participant — his "lover," for years. He stressed that she wasn't behaving the way a person who's been sexually assaulted should behave; in fact, the entire case was "nonsense" cooked up by a few fame-hungry women whom the media only emboldened, he said, conjuring up the image of a criminal justice system dancing to an ever-escalating "drumbeat."
According to the Associated Press, the prosecution dismissed McMonagle's dramatic presentation as "fancy lawyering" that couldn't change Cosby's decade-old deposition: He already admitted to giving Constand pills — Benadryl, according to Cosby; possibly Quaaludes, according to prosecutors — before initiating sexual contact with her.
"Drugging somebody and putting them in a position where you can do what you want with them is not romantic," District Attorney Kevin Steele said, according to the AP. "It's criminal."
Follow Mic's coverage of the Bill Cosby trial in our main hub here.