Dominique Heaggan-Brown Trial: 4 things to know about the Milwaukee police killing of Sylville Smith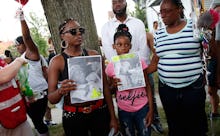 Former Milwaukee police officer Dominique Heaggan-Brown headed to court Monday to face charges related to the fatal 2016 shooting of Sylville Smith. Should Heaggan-Brown be convicted of first-degree reckless homicide, he could face up to 60 years in prison.
The 23-year-old Smith — who was black — was unarmed during part of the incident, after which dozens of residents in the majority-black Sherman Park neighborhood protested for two days, facing police officers in riot gear as various businesses were set on fire, the Milwaukee Sentinel Journal reported at the time.
In December, Smith's family released a statement after Heaggan-Brown was charged:
We always believed that Sylville should be alive today and that this rogue officer was completely wrong. Though the decision to prosecute cannot bring back Sylville, justice is needed for our family as we continue to move through deep grief and seek justice for his wrongful death.
Heaggan-Brown, also a black man, reportedly went to the same high school as Smith and started working as a police aide for the Milwaukee Police Department in 2010. He began patrolling in 2013, according to Fox 6 Now.
As jury selection begins, here's everything you'll need to know about this case.
1. The night of the shooting began with a chase.
Heaggan-Brown and another officer were performing a routine traffic stop when Smith, one of two individuals in the car, prompted a foot chase as he ran from the vehicle. At some point, Smith — who was armed with a semi-automatic pistol at the time — "fell, got back to his feet with the gun still in his hand, turned toward the officers and raised the gun," according to a criminal complaint as reported by CBS.
It's then Heaggan-Brown fired his own weapon, striking Smith in the arm and prompting him to toss his gun over a nearby fence. In his initial description of the event, Milwaukee Police Chief Ed Flynn said Heaggan-Brown "opened fire after Smith turned toward the officer and began to raise his gun, despite Heaggan-Brown's warnings to drop it," according to CBS.
2. Heaggan-Brown claimed that when he fired the second shot, Smith was reaching for another weapon.
Though Heaggan-Brown told authorities he fired the second and fatal shot because he "believed [Smith] was reaching for his waist" as he fell to the ground, body camera footage — worn by both officers from the initial chase to the moment of the shooting — confirmed Smith was indeed unarmed at the time, the Root reported.
Further, the footage showed "that at no time after the shooting did Heaggan-Brown or any other officer search Smith for a second firearm."
3. Heaggan-Brown was fired after the shooting.
Heaggan-Brown was fired Oct. 31 due to separate allegations of sexual assault, the first of which was reported two days after the shooting, according to Fox6Now. Three additional victims reportedly came forward, describing incidents that allegedly took place in December 2015, July 2016 and August 2016.
In August, Heaggan-Brown will face "two felony counts of second-degree sexual assault, two misdemeanor prostitution counts and one felony count of capturing an intimate representation of a person without consent," according to CBS.
4. If convicted, Heaggan-Brown will be among a small number of officers who are convicted of murder.
In 2015, 1,146 people — 26.8% of whom were black — were killed by police in the United States, yet zero officers were convicted of murder or manslaughter that year, nor in the year prior. These numbers reflect the current laws in place specifically to protect police officers from conviction.