Democratic congressman introduces the "COVFEFE Act" to require Donald Trump to preserve his tweets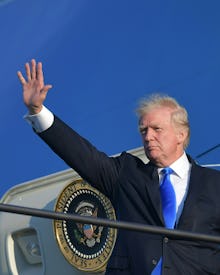 President Donald Trump's "covfefe" tweet may be indelibly burned into the minds of Americans.
But the initial tweet that added a new word to the American lexicon no longer exists on Trump's Twitter; it was deleted from his feed and lives on solely in media reports of the inscrutable missive.
One Democratic member of congress, however, is seeking to change that. On Monday, Rep. Mike Quigley (D-Ill.) introduced the COVFEFE Act.
It stands for the Communications Over Various Feeds Electronically for Engagement Act. If passed, the bill would add social media accounts to the list of documents that must be preserved under the Presidential Records Act, which "established a new statutory structure under which presidents must manage their records," according to the National Archives.
"In order to maintain public trust in government, elected officials must answer for what they do and say; this includes 140-character tweets," Quigley said in a statement announcing his bill.
The National Archives has in the past stated that tweets are considered official presidential records that must be preserved and advised the Trump administration to preserve Trump's tweets, even those that have been deleted.
Congress also sent a letter to the Trump administration advising them to preserve Trump's tweets or else possibly run afoul of federal records keeping laws, but Quigley's bill would settle any ambiguity regarding whether Trump's tweets counted toward presidential documents that must be preserved.
"President Trump's frequent, unfiltered use of his personal Twitter account as a means of official communication is unprecedented," Quigley added. "If the president is going to take to social media to make sudden public policy proclamations, we must ensure that these statements are documented and preserved for future reference. Tweets are powerful, and the president must be held accountable for every post."