IOS 11 iPad Features: 5 new tools that will change how you use your iPad, iPad Pro and iPad Mini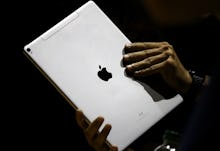 On June 5, Apple introduced iOS 11 — the operating system powering iPhones and iPads — at the Worldwide Developers Conference in San Jose, California. The next-generation iOS (public beta coming soon!) features several upgrades that promise to overhaul the mobile experience for the iPhone and iPad, giving Apple's tablet a few new tools that make it function more like a MacBook.
The new OS "makes iPad more capable than ever. And now it opens up both [iPhone and iPad] to amazing possibilities for augmented reality in games and apps," writes Apple on its website. "With iOS 11, iPhone and iPad are the most powerful, personal and intelligent devices they've ever been."
Here's how using your iPad will change with iOS 11.
1. The new Files app can help you organize your digital life
Apple is rolling out a new "Files" app, which lets users browse, search and organize their files. There's even a dedicated spot for their recent files. What's more, the files aren't limited to what's stored on your iPad. The app provides access to files on other iOS devices, in iCloud Drive and on other services like Dropbox.
2. The Dock will be expanded, so using an iPad will feel more like a MacBook
The Dock — the row of app icons you know from using a regular Mac — is expanded with iOS 11. This means more apps can be added to the Dock and they'll be available from any screen, which will make switching between apps easier. "The Dock also changes as you work. Intelligently suggested apps — like ones you opened recently and the last one you were using on your iPhone or Mac — appear in the right side of the Dock," says Apple on its website.
3. A drag-and-drop feature is coming
Drag and Drop will let you move text, photos and files from one app to another within the iPad. The feature has been "designed for the large Multi-Touch display of iPad," says Apple.
4. There are more ways to multitask
Multitasking is going to be even more efficient with the new Apple OS. Through "Slide Over" and "Split View" features, users can keep two apps active at the same time.
5. Apple Pencil gets more functionality
iPad Pro owners who use the Apple Pencil will have more ways to use the smart pencil. The Pencil will allow Instant Markup, which lets you jot down notes on PDFs and screenshots. You can also use the pencil to tap on the lock screen to start taking notes that will automatically save within the Notes app. The Notes app now comes equipped with a new Document Scanner so you can fill in the blanks or sign a document with Apple Pencil.
Currently, the beta version of iOS 11 is available to developers, with a public beta slated to release soon. Those interested in iOS 11 can sign up for the Apple Beta Software Program to test the beta version or wait until fall for the official OS release.
More iOS 11 news and updates
Can't wait for iOS 11? Here's everything you need to know about Apple's new mobile operating system. Check out our guide to the biggest iOS 11 bugs so far, along with all the new features — how to record your screen, how to block texts while driving, new effects in Messages, how it lets you bypass Snapchat's screenshot alert, iOS 11 dark mode, peer-to-peer Apple Pay and, of course, the iOS 11 beta release date.