Donald Trump's travel ban blocked again, this time by the 9th Circuit Court of Appeals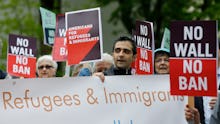 A three-judge panel on the 9th Circuit Court of Appeals once again blocked President Donald Trump's travel ban Monday, ruling that the order "exceeded the scope of the authority delegated to him by Congress."
According to the three-judge panel, the travel ban "runs afoul of other provisions of the [Immigration and Nationality Act] that prohibit nationality-based discrimination and require the president to follow a specific process when setting the annual cap on the admission of refugees," the judges wrote in their opinion.
In its ruling, the judges disagreed with the argument presented by acting Solicitor General Jeffrey Wall on May 15 and said the order overstepped Trump's powers as president.
Wall urged the judges not to take Trump's tweets and past statements — something other lower courts had previously cited in their rationales for blocking the ban — into account when making their decision.
"The [executive] order on its face doesn't have anything to do with religion, and in operation doesn't distinguish on the basis of religion," Wall said in his argument, according to CNN.
The ruling comes a little more than two weeks after the Virginia-based 4th Circuit also ruled against Trump's travel ban, saying the executive order "drips with religious intolerance, animus and discrimination."
The Trump administration has already appealed that decision to the Supreme Court.
"This Department of Justice will continue to vigorously defend the power and duty of the executive branch to protect the people of this country from danger, and will seek review of this case in the United States Supreme Court," Attorney General Jeff Sessions said in a statement after the 4th Circuit ruling.