11 #LovingDay tweets on Loving v. Virginia's 50th anniversary that will make you smile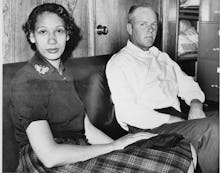 Interracial marriage was legalized 50 years ago Monday in the Loving v. Virginia case — and people on Twitter are celebrating the landmark decision in perhaps the most adorable way.
With the hashtag #LovingDay, people are sharing family pictures and Pinterest-worthy wedding shots. Let's take a look of some of the heartwarming stories.
Some people celebrated by sharing pictures of their parents in their heydays:
Others shared perfect relationship selfies:
There were some amazing wedding photos:
And, finally, a few family pictures: