How does 'Orange Is the New Black' season 5 end? This is where the shocking finale leaves off.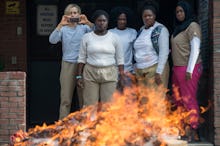 The fifth season of Netflix's Orange Is the New Black premiered early Friday morning, and at least one burning question from season four — what happens after Daya grabs the gun — was answered right out of the gate. After that, the now inmate-run Litchfield prison falls into chaos unlike anything seen on the show before.
What unfolds over the next three days makes up the 13 episodes of season five. The resulting story plays out much like one would expect it to, considering the narrative is about a mob of inmates — messily, but with great fervor.
The final third of the season takes an exceedingly dark turn, and truly horrifying things happen to the inmates, even though there is a great payoff in the final episode. Here's how the anarchic season wraps up.
In episode nine, the unpredictable guard Piscatella breaks into Litchfield and starts to wreak havoc on the inmates, pulling moves that rival horror movie murders. Red attempts to take him down, but that doesn't go particularly well for her. Piscatella captures her and her prison family, and ends up ripping her hair from her head and scalping her with a knife.
The torture Piscatella inflicts on these women is grotesque to say the least, and shows a sense of depravity that seems unprecedented for the show.
The following episodes up through the finale are focused on the negotiations between the inmates and the police over the Litchfield residents' demands. Taystee, played by Danielle Brooks, takes the lead in these negotiations, which go well until her need for justice over Poussey's death gets the better of her. That is the one demand the police say they can't carry out, and it pushes Taystee to renounce all of her fellow inmates' demands.
The prison is stormed by the riot police, and a slow-motion sequence of various inmates being subdued and taken outside ensues. They're all separated into lines and onto buses to who-knows-where. All except for 12 — Red, Piper, Alex, Suzanne, Taystee, Gloria, Blanca, Black Cindy, Nicky, Frieda, Pennsatucky and Chang.
The latter two actually escape — Chang through a hole in the fence, and Pennsatucky with Correction Officer Coates. The remaining 10, however, are stuck in Litchfield to face the riot police, who have been told casualties are acceptable in this case.
The season ends on a cliffhanger and a smoke bomb going off, which makes it totally unclear who survived the raid. It's tempting to say Piper will be okay, but then again, no one saw Poussey's death coming, so really anyone could be missing next season.
Mic has ongoing coverage of Orange Is the New Black. Check out our main OITNB hub here.