Here's what the Henson v. Santander Supreme Court decision about debt collection means for you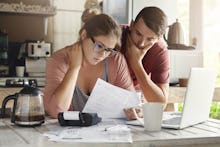 The Supreme Court unanimously ruled on Monday that the Fair Debt Collection Practices Act, or FDCPA, does not allow people who think they're experiencing abusive debt collection practices to sue banks that have bought defaulted loans from another lender.
The decision, published by newly appointed Justice Neil Gorsuch, means that aggrieved debtors can't sue certain third parties, like banks, if those parties directly own the debt they're servicing. Historically, the FDCPA was targeted at third-party debt collection services, and in his opinion, Gorsuch made a narrow ruling that the FDCPA, passed by Congress in 1977, doesn't apply to a company unless that company is collecting debts "owed or due another."
"By its plain terms this language seems to focus our attention on third party collection agents working for a debt owner — not on a debt owner seeking to collect debts for itself," Gorsuch wrote.
Now, the decision states that there is still room for Congress to create rules to more comprehensively protect borrowers — like, say, "a statute that applies the Act's demands to anyone collecting any debts, anyone collecting debts originated by another, or to some other class of persons still" — but that that's a job for lawmakers, not the judiciary.
The plaintiffs in the case, a group of debtors who'd defaulted on their auto loans, tried to sue the United States unit of Spanish bank Santander for predatory collection practices. But because Santander owned the debt and was servicing it, the court said, Santander and companies like them can't be sued under the FDCPA.
April Kuehnhoff, staff attorney at the National Consumer Law Center (NCLC), said in a phone interview that the ruling means anyone who tries to sue their debt collector for abusive practices will have to have prove to a court that the collector doesn't fall into this loophole the Supreme Court has essentially created. "The [new] complication here is that when you're suing, you might not know whether or not the debt buyer's principal purpose is debt collection — that might only come out during the court case," she said.
During oral arguments, Chief Justice John Roberts effectively acknowledged that these dual-role companies were not envisioned by lawmakers when they first created the FDCPA. "This particular type of entity, is not what Congress had before it when it passed the law," he said, according to SCOTUSBlog. "The industry has evolved in a way that has raised these sorts of questions. This is not something that Congress was addressing."
Debt collection is the largest source of problems in the Federal Trade Commission's database, generating more than 850,000 complaints, and is likewise the leading source of consumer complaints to the Consumer Financial Protection Bureau. Collectors contact "American consumers more than a billion times a year," as of 2010, and the practice of debt collection is widespread, amounting to a more-than $11 billion industry.
Kuehnhoff said individuals with debt will need to be careful going forward, and those concerned about the issue might consider lobbying Congress to pass a law that addresses this loophole.
Have a lot of debt? Check out these Mic guides to wiping out and paying down outstanding loans and credit card debt. And if you're being harassed by a debt collector — whether about taxes, loans, or other owed money — be sure to read up here on your legal rights and how to fight back.
Sign up for the Payoff — your weekly crash course on how to live your best financial life. Additionally, for all your burning money questions, check out Mic's credit, savings, career, investing and health care hubs for more information — that pays off.