7 stunning images show how Marvel's 'Black Panther' was inspired by African art and culture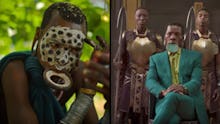 In the four days since its first teaser trailer aired Friday, Marvel's upcoming Black Panther movie has generated a fair amount of buzz. And as with any comic book property, excited fans, critics and pop culture sleuths have scoured its promotional materials looking for inside references, hidden Easter eggs and influences that might have inspired the project.
Of particular interest have been the teaser's eye-popping visuals. Set in the fictional, technologically advanced African nation of Wakanda, Black Panther had the opportunity to create a unique world that blended futuristic science fiction with traditional clothing and art from across Africa.
Ruth Elaine Carter, the film's legendary costume designer, was integral to that process. Here are seven visual sources that she said inspired her work for the film, and that other observant Twitter users — like writer Kendra James — have suggested made their way in as well:
1. The Maasai people of Kenya and Tanzania:
Black Panther:
2. The Suri people of South Sudan and Ethiopia:
Black Panther:
3. The Himba people of Namibia and Angola:
Black Panther:
4. The Dogon people of Mali:
Black Panther:
5. The Tuareg people of the Sahara Desert, including parts of Libya, Algeria, Niger, Mali and Burkina Faso:
Black Panther:
6. The Basotho people of Lesotho:
Black Panther:
7. The Ndebele people of South Africa:
Black Panther:
As you can see, Carter's work on Black Panther was influenced by people, clothing and art from nearly every region of the African continent. Some observers also pointed out that the film's poster — which was released a few hours before the teaser aired — resembled the iconic 1967 photograph of Huey P. Newton, co-founder of the Oakland, California-based Black Panther Party, sitting on a wicker throne with a spear and a shotgun.
The Black Panther film — which was directed by Ryan Coogler and stars Chadwick Boseman, Lupita Nyong'o and Michael B. Jordan — is set for a Feb. 18 release. It is the first new Marvel film to star a black protagonist since Blade, with Wesley Snipes, was released in 1998.