'Wolfenstein 2: The New Colossus' called anti-white by alt-right because KKK and Nazis are villains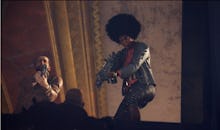 The alt-right is angry over the trailer debut for Wolfenstein II: The New Colossus that premiered at Bethesda's E3 2017 event.
Here's a quick recap of the announcement from our previous coverage:
Wolfenstein 2: The New Colossus takes place in a version of the United States controlled by a technologically advanced version of the Nazi empire. It appears to pick up a bit after the previous game left off, introducing us to an America where German lessons are mandatory and Ku Klux Klan members walk the street while wearing their robes.
Unsurprisingly, it didn't take long for alt-right commenters on numerous websites to engage in a barrage of racist comments targeting the game.
Below is a screenshot from a 4chan discussion on the "LIBERAL'S [sic] LOVE WOLFENSTEIN" thread.
One commenter self-identifies as a "Nazi," another speaks of the desire for a "race war" and yet another calls Grand Theft Auto a "nigger-killing simulator."
As of this writing, the comments section from the YouTube trailer for the game still features racist, homophobic, anti-Semitic and Holocaust-denying statements. One reads "Hitler did nothing wrong" and Jewish people "made up everything."
Triple-bracketing — an anti-Semitic tactic used to identify Jewish people without tripping filtering systems that prevent hate speech — also appears.
Motherboard uncovered similar commentary on other sites, documenting statements that referred to a black character as a "black Afro whore" and suggested Jews were controlling the game industry.
Wolfenstein II: The New Colossus will be released Oct. 27 and is currently available for pre-order on Playstation 4, Xbox One and PC.
Watch the trailer for the game below:
More gaming news and updates
Check out the latest from Mic, like this essay about the sinister, subtle evils lurking in rural America that Far Cry 5 shouldn't ignore. Also, be sure to read our review of Tekken 7, an article about D.Va's influence on one Overwatch player's ideas about femininity and an analysis of gaming's racist habit of darkening villains' skin tones.