Will Ethereum crash? Why a price drop for cryptocurrency like ether and bitcoin might be healthy.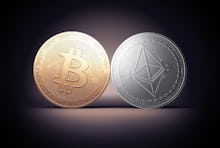 Prices for the cryptocurrency ether continued to climb on Monday after going on a tear for the better part of a year. As of 4:40 p.m., the Ethereum-traded coin was trading at more than $370 per unit, a gain of roughly 6.6% over the last 24 hours, according to CoinMarketCap. Meanwhile bitcoin has dropped nearly 11% to about $2645 per coin.
Ether has been one of the best-performing assets of the year, with prices climbing more than 5,000%, according to CNBC. Noting similarly outsize gains on Twitter, the economist Steve Hanke wrote that "this is what a bubble looks like," referring to the phenomenon where investor enthusiasm causes an unsustainable rise in prices.
Indeed, concern over high prices has prompted some cryptocurrency enthusiasts to muse that a crash in prices might not be such a bad thing. On one hand, a dip in prices could help draw in more investors who were enticed by a potential "buying opportunity." More customers would also force the platforms to upgrade their capabilities, the thinking goes, which would help digital currencies gain legitimacy.
But not all Ethereum proponents expect a crash. Daniel Vaughn, a programmer who works on Ethereum-based cryptocurrency products, wrote in a message to Mic that enough companies, individuals, and even governments are building products on Ethereum to keep the price marching steadily upward.
"We will certainly see intermittent corrections here and there," Vaughn said. "But the general trend is definitely upward. It's a platform, so we will see companies launching products ... Some will succeed and some will fail, and that will shake some people's confidence."
A new product launch is partly to explain for ether's current rising price: On Monday morning, a new blockchain project called Bancor conducted an "initial coin offering," and raised $153 million worth of ether in a matter of hours, which Vaughn said prompted a "ton of transaction traffic."
The fact that it's so much easier for programmers to work with is one reason why Ethereum could surpass bitcoin in value, possibly as early as next year. For more detail about bitcoin, ether, litecoin and more, check out Mic's recent coverage of cryptocurrencies here and here.
Sign up for The Payoff — your weekly crash course on how to live your best financial life. Additionally, for all your burning money questions, check out Mic's credit, savings, career, investing and health care hubs for more information — that pays off.