These 7 pieces of clothing are all you need to travel the world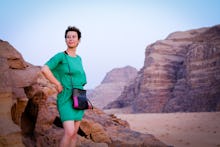 You'd think that after 17 years of professional travel, I'd be a good packer. But you'd be wrong. While fellow travel writers pride themselves on packing a two-week trip into one carry-on, I lack such bragging rights.
So when it came time to pack for a weeklong trip to Jordan in May, with adventure high on the agenda and the inaugural AdventureNext Near East conference tacked on at the end, I was stumped: I really wanted to travel with just a carry-on, but wasn't sure I could swing it.
Almost serendipitously, that's when I got wind of Unique Travel Set, a Kickstarter-funded collection of comfortable, multi-occasion garments for women, meant to be mixed, matched and worn a few times before being thrown into the wash. From this assembly, you can supposedly create as many as 30 outfits suitable for professional and casual settings to take you through a three- to five-day trip. This sounded like a work of genius, and exactly what I needed for Jordan.
After a successful Kickstarter campaign, which earned more than its $26,000 fundraising goal, the company has just launched its product online. The whole set, which costs $350 and comes packed in a multifunctional bag, weighs less than four pounds. It's made up of seven pieces total: high-waisted pants, leggings with breathable mesh, a long short-sleeved shirt, a multifunctional dress, a cap/scarf combo, a belt and removable long sleeves.
As a believer in bold colors, I ordered the Green Grass set. Somehow it seemed appropriate for the desert landscapes of Jordan, to break up the beige. Little did I know that Jordan was also deliciously green, so I fit right in.
For hikes and walks, I loved the pants and the long shirt over them. During the conference, with air conditioning blasting in the meeting rooms, the removable long sleeves were easy to pull out of my bag, and they kept me warm. Each piece, made with soft viscose material, felt great on my skin and didn't become too wrinkly, despite the compact packing.
The short-sleeved dress was the best; I wore it on a sunset stroll through the sands of Wadi Rum, on the shores of the Dead Sea at the opening dinner of the conference (with the belt on) and on a walk through a nature reserve up north. While people noticed the set (I chose bright green, after all), I'm not sure they noticed the repeat.
I have a couple of confessions to make. First, I packed a few of my own shirts and hiking pants — for my eight-day trip, the single set wasn't going to cut it. Second, in addition to the Green Grass set, I also got a purple dress as an add-on (monochrome's not my thing, but I think someone who likes to wear black could really make this concept work). That's a big benefit of the Unique Travel Set: While the Basic set comes in just one color, you can choose the Make Your Own Set option for an additional $90 and order, say, a green dress and black pants (plus all the other items).
Was it worth it? For starters, I did manage to travel to Jordan with just a carry-on. It's a feat that, as I can now attest, simplifies logistics and ups your status to expert traveler. And even though I snuck in several other clothing items — and of course, a couple pairs of shoes and underwear — the full green set and the purple dress add-on felt like enough clothing for the whole trip. The wardrobe-in-a-bag concept is totally worth testing out. It not only takes much of the guesswork out of dressing for a day of exploration, but also takes the lug out of luggage.