Why isn't 'The Bachelorette' on tonight? When to watch episode 4 of Rachel Lindsay's season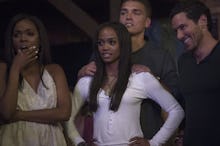 Fans of The Bachelorette are going to have to wait one more week to find out what happened between Eric and the rest of the contestants.
Although The Bachelorette generally airs a new episode every Monday night, episode four of the ABC reality series will not be debuting on June 12. Instead, the network has a lineup of programming for game five of the NBA playoffs. A special NBA episode of Jimmy Kimmel Live will kick off at 8 p.m. Eastern, followed by the NBA Countdown at 8:31 p.m. Eastern. The Cleveland Cavaliers at Golden State Warriors game will begin at 9 p.m. Eastern.
The Bachelorette will return to its normal 8 p.m. Eastern time slot on Monday, June 19. Episode four will pick up with Eric confronting Lee and a couple of the other suitors about talking behind his back. When viewers last left off, Eric had been pulled aside by Rachel Lindsay, who questioned whether he was on the show for the right reasons. Eric reassured Rachel that he was there for her, but things got heated when he returned to face the rest of the men.
According to the episode four synopsis, the drama will not die quietly:
The contentious cocktail party continues, as a frustrated Eric implores the rest of bachelors to stop talking about him to Rachel. While most of the men are perfectly content to skip the drama, one calculating guy, Lee, deceptively steals Rachel away from Kenny for a second conversation. The two bachelors' confrontation sets off a heated argument, totally distracting Rachel as she attempts to better acquaint herself with the other men. So she makes a decision that surprises all of the bachelors.
Will Rachel take back the group date rose that Eric got in episode three? Will she send home men during the cocktail party and skip the rose ceremony completely? Whatever Rachel's decision might be, the remaining men won't be staying in the mansion either. The episode description continues that Rachel, hoping for a "fresh start," will bring the guys to Hilton Head Island, South Carolina.
Mic has ongoing coverage of The Bachelorette. Check out our main Bachelorette hub here.