E3 2017 Microsoft Xbox Indie Games: 'Tacoma,' 'Super Lucky's Tale,' 'The Last Night' and more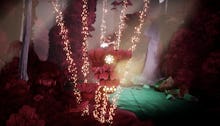 There were so many games at Microsoft's E3 2017 conference, it was hard to keep track of them all. For those of you who got caught up in the big names (and the Xbox One X reveal), we've put together a list of some of the coolest-looking indies of the night. Still more games than what's below were shown, but only for a few seconds, so we'll have to wait until the next big gaming event to learn more about them.
E3 2017 Microsoft Xbox indie games: Black Desert Online
Black Desert Online came out in Korea for PC back in 2014, but only made it to the U.S. last year. It's received a positive reception in the States, and Microsoft is putting the power of the Xbox One X to use to power a console version of it soon. Not a lot of info accompanied the E3 trailer at Microsoft's conference, but for now, we can assume the experience will be much the same as on PC, with alterations made to suit a controller instead of a keyboard.
The game is coming to Xbox One and PlayStation 4 sometime in the future.
E3 2017 Microsoft Xbox indie games: The Last Night
The Last Night's E3 debut was spoiled by a bit of controversy involving the developer and his alleged ties to the #Gamergate movement. The Last Night is a gorgeous adventure game about life in a "technological socialist dystopia." As for what all that entails, is anyone's guess. Regardless it looks good, but it will likely be prattling, thinly veiled social commentary that only has its graphical stylings going for it. Bummer.
The Last Night is coming to Windows and Xbox One in 2018.
E3 2017 Microsoft Xbox indie games: The Artful Escape
Annapurna Interactive, the story behind the excellent What Remains of Edith Finch, is publishing The Artful Escape. I'm not sure what it's about, but I like the music and colors, which are enough for me to stamp it as a must-buy.
The Artful Escape is coming to Xbox One and Windows, "when it's damn ready."
E3 2017 Microsoft Xbox indie games: Code Vein
Code Vein isn't technically an indie title, since it's published by Bandai Namco, but it's niche enough to make this list. It's an action-RPG by the same team that developed God Eater, and it's about vampires with impossibly huge weapons. It's straight out of Japan, so expect over-the-top action rather than a stuffy Dracula-type narrative.
Code Vein will release sometime in 2018 on Windows, PlayStation 4 and Xbox One.
E3 2017 Microsoft Xbox indie games: Super Lucky's Tale
Lucky's Tale headed the Oculus Rift launch lineup, and I thought it was adorable and showed that third-person platformers could work well in VR. For those who haven't chosen to don the Rift, you'll be able to have fun with Lucky in your own way in Super Lucky's Tale, a remake of the first game in a more 2D-friendly style.
Super Lucky's Tale is coming to Xbox One and Windows on Nov. 7.
E3 2017 Microsoft Xbox indie games: Ashen
Ashen is an Xbox One exclusive that seems like a more co-op-oriented Dark Souls. In Ashen, you must work with your partner to push back "the darkness" and explore the in-game world. It's got a unique visual style, and it'll be interesting to see if developer Aurora44 can bring the Souls formula to co-op gameplay.
Xbox One and PC will get Ashen in 2018.
E3 2017 Microsoft Xbox indie games: The Darwin Project
The Darwin Project is a new survival game for Xbox One by Scavenger Studios. It sort of looks like a PG-13 version of Rust but with a cel-shaded art style. Players will have special powers like cloaking and heat-vision, and it offers a unique position as a director of the survival combat. The Darwin Project is framed as being televised, and if you're playing as the director, you can influence the match in various ways.
The Darwin Project will launch as an Xbox One exclusive in spring 2018, with a PC version scheduled to be released later on.
E3 2017 Microsoft Xbox indie games: Deep Rock Galactic
This space adventure from Ghost Ship Games features asteroid-mining dwarves. Up to four players can co-op up and explore procedurally generated cave systems to mine.
Mine stuff with your dwarf buddies when Deep Rock Galactic comes out on PC and Xbox One in early 2018.
More news from Microsoft E3 2017
Check out more of our coverage from the Microsoft E3 2017 press conference, including info on the new Xbox One X, Playerunknown's Battleground Xbox reveal, Forza Motorsports 7's gorgeous new trailer and the Metro Exodus announcement. BioWare's Anthem reveal definitely stole the show. But don't miss out on Sea of Thieves, State of Decay 2, Crackdown 3 and Tacoma, either.