'Griftlands' trailer, gameplay, release date and everything else we learned at E3 2017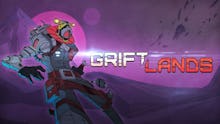 Klei Entertainment, the developer behind popular indie hit Don't Starve, just revealed brand-new role playing game Griftlands at the E3 PC Gaming Show.
We didn't learn much about Griftlands, though it looks stunning. The game features a comic-book-inspired animation style and sci-fi setting.
Here's a quick description of the game via the Griftlands Steam page:
In Griftlands, everything is negotiable: money, loyalty — even morality. Choose your character and make your fortune. Griftlands is the next game by Klei.
Griftlands is set to launch in early 2018. Check out the announcement trailer below.
This story is developing.
More gaming news and updates
Check out the latest from Mic, like this essay about the sinister, subtle evils lurking in rural America that Far Cry 5 shouldn't ignore. Also, be sure to read our review of Tekken 7, an article about D.Va's influence on one Overwatch player's ideas about femininity and an analysis of gaming's racist habit of darkening villains' skin tones.