'South Park: The Fractured But Whole' Ubisoft E3 2017: Release date announced at E3 conference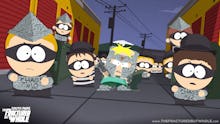 Even if you've never seen an episode of South Park, the new South Park game coming from Ubisoft is set to capitalize on the surprise success of its predecessor, South Park: The Stick of Truth. The mechanics have evolved a bit to include lane specific attacks, but it's the same over-the-top lewd humor and crude wit that helped to elicit such excellent reviews the first time around.
At the Ubisoft E3 2017 press conference, we snagged some some concrete information on when we can expect The Fractured But Whole, as well as a brand new trailer to tide us over until it launches on Oct. 17. You can check out the new trailer below, just don't watch it at work:
You'll still have to wait a little while to play the game proper, but hopefully it's funny enough to keep you occupied until the game releases on Oct 17. Or at least until the next announcement about it.
More news from E3 2017
Check out more of our coverage from the Microsoft E3 2017 press conference, including info on the new Xbox One X, Also, don't miss out on the Battlefront 2 reveals, like this gameplay trailer and all the info on Battlefront 2's multiplayer. But if you really want to be blown away, make sure you check out The Evil Within 2 and Wolfenstein 2: The New Colossus.