One year after Pulse shooting, a majority of Americans want stronger gun control measures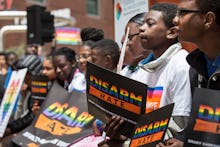 Exactly one year after the deadly Pulse nightclub shooting that killed 49 people and injured dozens of others, a new poll found that a majority of likely voters in America not only think there should be stronger gun control measures in the country, but they want those measures to go further than simply expanding background checks.
The nationwide, bipartisan poll, provided exclusively to Mic and conducted by Penn Schoen Berland polling for Guns Down, a group that says it's fighting the National Rifle Association in order to help enact stricter gun control measures, found that 54% of likely voters in America think fewer guns should be in circulation.
"A majority prioritize reducing gun deaths over protecting gun rights, and even fewer support an agenda to expand gun rights," Margie Omero, the pollster who conducted the survey, said in a memo announcing the poll results.
What's more, 31% of likely voters in gun-owning households think there should be fewer guns in circulation, while only 27% of likely voters in gun-owning households think there should be more guns.
Another 59% of those polled said they support "reducing the number of gun deaths" over "protecting gun rights," according to the poll.
"These results have extra significance a year after Pulse because lawmakers have done absolutely nothing to reduce gun violence, despite clear public support for tightening restrictions on firearms," Igor Volsky, who founded Guns Down after the Pulse shooting, said in an interview with Mic.
The polling comes as Congress has taken steps to weaken gun control measures in the United States.
In February, President Donald Trump signed a bill to repeal a rule that sought to prevent mentally ill Americans from buying guns — a rule the NRA said impinged on people's Second Amendment rights.
Trump, for his part, is a major supporter of the NRA, which backed his presidential campaign in the Republican primary.
He's advocated for getting rid of gun-free zones, and mocked Democrats, including Hillary Clinton, who support gun control measures.
But the poll found that a majority of likely voters disagree with Trump's gun-free zone position, with 55% saying allowing people to carry guns "in public places like grocery stores, restaurants [and] sporting events would make them less safe."
"The overarching conclusion is clear: Far from being divisive or hyper-partisan, many strong gun safety proposals are widely popular," Omero said in the memo.
The poll surveyed 1,294 likely voters across the country between May 19 and May 21.