Indiana lawmaker suggests women carry guns to learn how "not to be a victim" of rape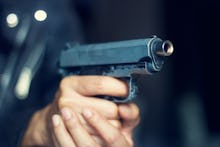 Rep. Jim Lucas (R-Ind.) thinks guns can help solve the sexual assault epidemic.
In response to an Indianapolis Star article reporting on a sexual assault, the Indiana legislator sent a letter to reporter Marisa Kwiatkowski, suggesting she pen a follow-up story advising women to arm themselves against potential rapists.
"That's always been a concern and an issue of mine is women being able to defend themselves," Lucas told the outlet. "I personally have paid out of my pocket for dozens of women to take firearms classes."
Lucas said he wrote the letter asking Kwiatkowski to give voice to the "thousands of Hoosier women that are taking steps and learning how not to be a victim."
This type of victim-blaming attitude that puts the onus of sexual assault on a potential victim instead of the perpetrator is not uncommon. Victims and survivors most often encounter it when authorities or the media suggest a victim could have prevented her assault by dressing differently or abstaining from drinking. In addition to the moral arguments against Lucas' proposal, however, there's science that questions the efficacy of his idea. For example, studies from the Harvard Injury Control Research Center have shown that guns are rarely used for self-defense, and when they are, they're not any more effective than other preventative measures.
This reality, though, was lost on Lucas: Amid the avalanche of backlash he received following the IndyStar's publication of his letter, Lucas wrote on Facebook that he'd met with members of the Women Armed and Ready group to discuss how guns can "empower women to be able to protect themselves."
Lucas later shared a meme from pro-gun rights group One Million Moms Against Gun Control, bragging that the second amendment had made women "more equal than the entire feminist movement."
After the kerfuffle, Lucas wrote on Facebook that he had an "excellent conversation" with the sexual assault survivor at the center of Kwiatkowski's initial IndyStar story.
"She learned that I have been personally paying for dozens of women to take self-defense classes to learn how to empower themselves and protect themselves," Lucas wrote. "I learned how common everyday words can be so extremely sensitive to survivors of such horrible acts."
However, Lucas stood by his assertion that it's well within a woman's ability to "mitigate their chances of being violently assaulted."
That Lucas remains stubborn in his opinion women can simply choose not to be victims of sexual assault is troubling. As an elected official, Lucas has the power to shape policy with such beliefs — and, by extension, the everyday lives of women and survivors of sexual assault.