E3 2017 Ubisoft 'Far Cry 5': Gameplay trailer and new details revealed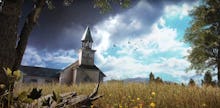 Far Cry 5 got some fresh info at Ubisoft's E3 2017 conference. Not only did we see a new, creepy thematic trailer, but we also got a taste of actual gameplay as well.
Check out the first of the new trailers below, in which the game's villain, Father Joseph Seed, sings a chilling rendition of "Amazing Grace" while brandishing a giant assault rifle.
After the above teaser, Ubisoft showed a lengthy gameplay trailer that revealed a number of non-playable characters who will help you throughout the story.
For example, one part showed the player directing a character named Grace Armstrong to the top of a water tower to pick off enemies from afar. It also showed Boomer, a cute gray-and-black dog, attacking enemies and retrieving weapons from their fallen bodies.
Since Far Cry 5 has quite politically charged themes, it'll be interesting to see how Ubisoft balances that with the high-octane gameplay the series is known for — if it does so at all.
Far Cry 5 will be available Feb. 27, so we'll have more coverage as we learn additional details in the months to come.
More news from Ubisoft E3 2017
Check out more of our coverage from the Ubisoft E3 2017 press conference, including the incredible Beyond Good and Evil 2 reveal, confirmation on the new Mario + Rabbids game, a pirate game called Skull & Bones and surprising new Far Cry 5 gameplay.