Secret Service: We don't have Trump tapes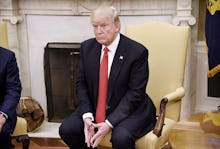 If there are audio tapes of conversations between President Donald Trump and former FBI Director James Comey, the Secret Service doesn't have them, the Wall Street Journal reported Monday.
The agency, which handled White House recording systems for former presidents like Richard Nixon, said it has no recordings or transcripts of recordings from within the Trump White House.
The information was provided to the Journal in response to a Freedom of Information Act request for recordings or transcripts of recordings made in the White House after Jan. 20, the day Trump took office. The Secret Service said it found "no records" pertaining to the request.
The Journal report doesn't necessarily mean there are no tapes of recorded White House conversations — just that the Secret Service doesn't have them.
The prospect of White House tapes emerged after Trump alluded on Twitter to the existence of such tapes following his dismissal of Comey.
Comey testified before the Senate Judiciary Committee on Thursday about the president's request that he drop an investigation into former national security adviser Michael Flynn. During his testimony, he brought up the referenced tapes.
"Lordy, I hope there are tapes," Comey said.
Trump disputed much of Comey's sworn testimony, which made reference to a series of detailed memos Comey said he kept after each conversation he had with Trump.
Legislators have called on Trump to release any such recordings that may exist. On Friday, Trump said he would say more "about that maybe sometime in the very near future," but added reporters would be "very disappointed."
On Monday, when pressed about the possibility of tapes, White House press secretary Sean Spicer said Trump would "get back [to reporters] as soon as possible" with an announcement.