'Mario + Rabbids Kingdom Battle' Ubisoft E3 2017: Release date, gameplay trailer and more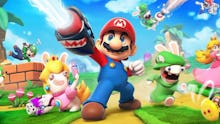 We never thought we'd see the day where Mario and Rayman's Rabbids got together to make game, but it's happened. It's happening. And Ubisoft reminded us during their E3 2017 press conference of just how utterly real this game is.
Mario + Rabbids Kingdom Battle even got a release date (Aug. 29) and a trailer. Buckle up.
Mario + Rabbids Kingdom Battle is a combination of Mario and X-COM. No, seriously. It's a turn-based strategy game where Mario, Peach, Luigi and Yoshi team up with a couple of Rabbids that are dressed as Mario characters to fight other Rabbids who are evil, apparently. The story hasn't been explained yet, but it's sure to be riveting stuff.
Battles look almost shockingly similar to X-COM, with an isometric perspective and a field of movement for each character during their turn. Mario and friends are using unique hand cannons as ranged weapons, with a percentage showing your chance of hitting the enemy during your turn. Mario mechanics also show up, though, as you can use warp pipes to navigate the battlefield and jump off your allies' heads to move further in a turn.
You also explore an overworld and upgrade your characters using a seemingly deep skill tree. It's absolutely bizarre, the kind of thing we never thought would happen to Mario. It also looks potentially great. We'll all find out together in August.
More news from E3 2017
Check out more of our coverage from the Microsoft E3 2017 press conference, including info on the new Xbox One X, Also, don't miss out on the Battlefront 2 reveals, like this gameplay trailer and all the info on Battlefront 2's multiplayer. But if you really want to be blown away, make sure you check out The Evil Within 2 and Wolfenstein 2: The New Colossus.