The Brexit vote is already making the UK's nurse shortage worse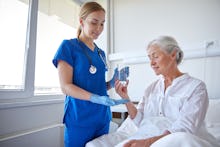 While the U.K.'s withdrawal from the European Union won't be complete for years, Britain's historic Brexit referendum is already having a significant effect on the number of skilled nurses willing to come work in the U.K.
The number of nurses from the EU registering to work in the U.K. dropped by 96% between July 2016 and April 2017, the BBC reported Monday. In July, 1,304 EU nurses registered to practice in the U.K., compared to just 46 in April.
The sharp drop is especially concerning considering the U.K. is struggling with an ongoing national nursing shortage, according to the BBC. The National Health Service is reportedly "40,000 nurses short" of what's needed in Britain.
"Without EU nurses, it will be even harder for the [National Health Service] and other employers to find the staff they need to provide safe patient care." Anita Charlesworth, director of research and economics at the Health Foundation, a U.K.-based charity, told the BBC.
She added that the drop following the Brexit vote "should be a wake-up call to politicians and health service leaders."
In 2016, the BBC reported that 13% of nurses in the U.K. were coming from outside of Britain, and one-third of those nurses were coming from the EU — but experts were already warning that the Brexit vote could severely impact that workforce.
Labour party politicians in the U.K. have already taken the drop in nurses from the EU as an opportunity to critique the policies of Prime Minister Theresa May.
"Our health service has always relied on the contribution of overseas workers, yet these staff are being forced out by this government's neglect and disregard," Jon Ashworth, a Labour MP, said, according to the BBC. "The Tories are overseeing an unforgivable drain of talent out of our country."