Trump walks US away from yet more climate pledges, this time at G-7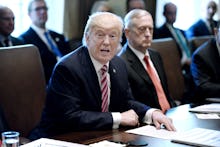 The U.S. refused to become a signatory to a G-7 statement on the environment which said all member countries were committed to reducing greenhouse gas emissions, or "any section on climate change and multilateral development banks," Politico reported.
Instead, the U.S. was mentioned in a footnote touting its goals of a "strong" economy and "healthy" environment, and which implied it had already met climate goals. It also specifically noted President Donald Trump's decision to unilaterally pull out of the landmark Paris agreement on climate change.
"We the United States of America continue to demonstrate through action, having reduced our CO2 footprint as demonstrated by achieving pre-1994 CO2 levels domestically," the footnote read. "We the United States do not join those sections of the communiqué on climate and [multilateral development banks], reflecting our recent announcement to withdraw and immediately cease implementation of the Paris agreement and associated financial commitments."
The G-7 comprises the seven most advanced and wealthy economies on the planet, with other members including Canada, France, Germany, Italy and Japan — all close U.S. allies who have committed to action on climate change.
Trump's decision to pull out of the Paris agreement was widely met with outrage by the international community, which, in addition to viewing it as a signal the U.S. would not pull its weight on offsetting climate change, feared the world's biggest economy bucking the landmark agreement could encourage other countries not to meet their commitments.
In addition to questioning the nearly unanimous scientific consensus on climate change himself, Trump appointed longtime Environmental Protection Agency opponent Scott Pruitt to lead the agency. Pruitt has purged scientists from some of the EPA's advisory boards, as well as recently admitted he has not talked with Trump about whether climate change is real.