Janet Mock: "My body, no matter how much I grew to accept it, could be violated"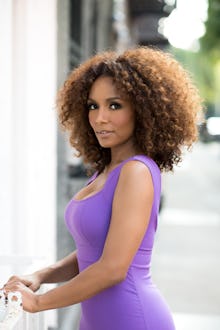 This is an excerpt from Surpassing Certainty (Atria Books, 2017).
Campus was covered in snow in late November 2003, hushing us to a lull. There were no parties to attend as students hunkered down for finals or retreated into the comfort of coupledom. Boredom and a lack of companionship led me to text Anthony, an economics 101 classmate, whom I frequently made out with during study sessions in the library.
hey! what you doing??
chillin. u??
soooo bored.?
come over. hang w me. im fun ;-)
mmmhhhhmmm
not kidding.?
all right but no funny business :-P
promise.
I turned off my laptop, fluffed my hair and spritzed myself with Clinique's Happy. Anthony lived in a single room a five-minute walk from my apartment. I had only been to his dorm once to pick up notes he had taken for a lecture I missed.
Anthony was on the basketball team and must've been pretty good, because he ate with a different girl every time I saw him in the dining hall. He was handsome and knew it, standing at six-foot-four, with light brown skin and hazel eyes.
I joined him on his gray futon as he flipped channels.
"Wanna pick something?" he asked, extending the remote to me.
When I reached to grab it, he pointed his finger to his cheek. He was an expert flirt, so I kissed him. He handed the remote over. I turned to MTV, where Jessica Simpson was serving dumb-blonde realness for the masses on Newlyweds.
I could tell he was bored by the mundane reality of the rich and famous, so I rubbed Anthony's head as consolation, the short bristles of his coarse hair scraping my palm. He grabbed my hand and kissed my wrist, leaving goose bumps in the imprint of his wet kiss. I pulled my hand away in an effort to make him pause. He continued anyway, turning around to meet me face-to-face on his knees as I rested on the couch.
I kissed him and patted the spot next to me to direct him to sit on the couch. He ignored my signal and placed his hands on my shoulders to hold me in place. He pressed his mouth to my neck, biting me softly below my ear, kissing me right above the collarbone. His face rested between my breasts. I knew these moves; his choreography never changed. In the library, it was easy to withdraw from his advances because it was a public space. In the shadows of his bedroom, he was unstoppable. He stood up and began to slip his sweatpants down. I tried not to roll my eyes in response.
"Come on," I said. "Let's watch TV."
"You didn't come here to watch TV."
"Yes, I did."
"Take your top off."
"I'm leaving," I said, reaching for my sweater on the couch next to me.
"No, you're not," he snapped, snatching my sweater, which he draped over his wide shoulders. "If you want it, come get it."
I stood to grab it, and he pushed me with little effort back to the spot I had risen from.
"Stop," I said. "This isn't funny!"
He chuckled and tossed my sweater across the room where it landed on his bed. I rolled my eyes in exasperation and pushed him out of my way to retrieve my sweater. He trailed me and pushed me onto the bed. I landed on my belly. When I turned toward him, his dick was in his hand, held up by the tension in the tight elastic waistband of his gray sweats. He began to stroke himself.
"OK, I'm leaving for real now," I said, attempting to get up.
Anthony fell onto the bed, pushing me onto my back. He rose to his knees and straddled me while stroking himself rigorously.
"Take off your pants," he said.
"No," I rolled my eyes. "Just finish yourself off."
"I said, take off your pants."
"No!"
He stopped stroking himself and put both hands on my waist. I gripped the elastic band of my tights.
"I'm taking them off," he said.
I understood then that consent for him was not me expressing my desire to have sex. He felt he deserved to have my body because I had come to his room and he desired me. Walking past the threshold of his room was consent enough. Having made out with him before was consent enough. Being forced into a corner so I had no choice but to yield was consent enough. Saying yes or no didn't matter.
He forced my tights down and pulled my thong to the side to enter me. He kept pushing despite the fact that I squeezed him with my thighs, despite the friction and the tightness, despite the fact that I turned my face away, despite the fact that I cried for him to stop, to not cum in me. He can't even do that, I thought, as he pushed deeper inside me and finished.
I peeled myself away, got dressed, and walked out. When I got home, I washed the night off me and made a sobbing noise, trying to force a cry. Tears didn't come.
The remnants of that night never left me. By instinct, my thighs tightened for years every time a man hovered over me. To this day, anytime I pass a fragrance counter or a woman wearing Happy, I am taken right back to that bed on that snowy night. Anthony stripped me of the comfort I was just beginning to enjoy in my body. He reminded me — someone who had grown up with the Spice Girls and Destiny's Child chanting "Girl Power" and "Independent Women"— that no matter how empowered I felt, I could still be disempowered, made small and vulnerable.
And I never told anyone that semester or in the coming years — until now.
Like many, I felt I was not deserving of an audience. I believed I had to grapple with this harsh truth alone, and my silence still taunts me. As someone who has been open about so many of my experiences — from my family's economic struggles and my teenage transition to my experiences working in a strip club, I am still reeling with the fact that I remained silent about this. The only thing that has made me feel confident enough to share this now is knowing that I am not alone.
Women in college are three times more likely to experience sexual violence, and only 20% report their assault, according to RAINN, the nation's largest anti-sexual violence organization.
Having engaged in sex work as a young woman, I knew sexual assault was a possible threat, but I never thought my school campus would be an unsafe space. I never thought that this would happen to me by a classmate, someone I knew, someone with whom I had already been intimate.
Every once in a while, regret surfaced in the form of what-ifs and the dozens of different things I should've done. I blamed myself for being so needy, for seeking the company of another that night. I blamed myself for being too cheeky, too familiar, too comfortable. I blamed myself for not saying no loudly enough, for not deepening my voice in a commanding way. I blamed myself for pursuing my sweater on his bed. I blamed myself for not screaming, scratching, punching, kicking, resisting.
This ceaseless soliloquy made sleep impossible for the months that followed, and I retreated to long, hot, pitch-black showers, crying into the darkness, wringing myself out, clearing my mind and cleansing my body.
My body, no matter how much I grew to accept it, could be violated, I realized. No matter how much I learned to embrace it, it couldn't always protect me from unyielding force.
We have continuity in our bodies, which hold experiences that never leave us, experiences our bodies conceal so we can keep going. They hold tightly to them — until we have confidence to trust our bodies again, to loosen their grasp. This relaxation never came to me. My body did not rest. It did not yield. It remained clenched for nearly all of my twenties.
Janet Mock is an author, advocate, and host of the podcast Never Before. This essay is adapted from her new book, Surpassing Certainty: What My Twenties Taught Me, out today from Atria Books.