'The Crew 2' release date, gameplay, trailer and everything we learned Ubisoft E3 2017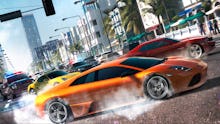 Ubisoft surprised us with plans to release The Crew 2 with an announcement in May. Now the company is offering up more details at E3 2017.
The Crew 2 launches in early 2018. Check out the trailer below.
The trailer, and subsequent presentation, show four distinct sections of gameplay. There is the main street driving, off-roading on two- or four-wheelers, speedboating and flying — each seems to have a unique style, but they all share a common focus on gorgeous environments.
The Crew 2 also got a gameplay walkthrough that shows off some of the acrobatics players will be able to pull off over land, air and sea.
The game will feature a beta period sometime before launch. The details and sign up will be available here, according to the stream.
More news from Ubisoft E3 2017
Check out more of our coverage from the Ubisoft E3 2017 press conference, including the incredible Beyond Good and Evil 2 reveal, confirmation on the new Mario + Rabbids game, a pirate game called Skull & Bones and surprising new Far Cry 5 gameplay.