Xbox One X vs Xbox One S: Hands-On with the Microsoft console formerly known as Scorpio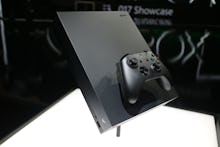 The Xbox One X, formerly codenamed the Scorpio, brings an update to the already recently updated Xbox One S. While the Xbox One launched back in 2013, the One S released just last year. With many having upgraded recently, early-adopters are likely wondering if they should trade in their console for newer option. Here's what it's like playing the new Xbox One X.
Xbox One X vs Xbox One S: Overview
The Xbox One X's biggest draw is full 4K and HDR support for gaming. Meaning when you fire up games like Anthem, Dragon Ball Fighter Z and FIFA 18, they'll appear in the highest quality possible by a game console.
But those good looks don't come without a price. Xbox requires you to pay a $499 admission fee before you can play One X. Meaning if you want the biggest, baddest Xbox experience, it will cost you $249 more than simply buying a One S.
Xbox One X vs Xbox One S: Controller
The controller coupled with the Xbox One X is largely similar to the One S. Unlike the controller update we saw when the One S was released, the Xbox One X ships with a virtually identical controller as the console before it, now in black.
Xbox One X vs Xbox One S: Performance
The One X brings native 4K gaming at 60 frames per second to your video game setup. The One S before it offered 4K but only for playing movies and videos. 4K gaming could be achieved through upscaling, not offered natively.
What if you plan on using the Xbox One X with a 1080p display? At its presentation the Monday before E3, Microsoft explained that the console makes use of super sampling for lesser displays. Meaning if your television is 1080p caliber, some of the added detail you'd get out of 4K is brought to the smaller screen size.
Similar to previous Xbox One models, the Xbox One X makes use of Dolby Atmos sound. So with the right speakers, you'll hear sounds not just around you, but above you as well.
Xbox One XSource: Marlon Brown/Mic
Playing the new Forza on Xbox One X looked and felt great, but not mind-blowingly so. It's hard to argue that the One X doesn't look very good, but without the Xbox One S on a 1080p screen next to us to compare, it was hard to claim that it was $250-worth of a better of an experience.
Xbox One X vs Xbox One S: Why didn't they just call it Scorpio?
According to Cindy Walker, director of portfolio marketing for Microsoft, Scorpio was a popular name the company internally liked. "15 years ago when Xbox started, it was a moniker that there was no power greater than X." Walker continued, "everyone really started to rally around X," considering Microsoft's newest console is the most powerful on the market. A true statement, at least for now in 2017. Nobody tell Microsoft that "X" squared is greater than "X," at least until it's time to name their next console.
Xbox One X vs Xbox One S: Is it worth it?
As the latest, most capable Xbox one would assume this is the Xbox to own.
Not quite. The Xbox One X is objectively better than the Xbox One S that came before it. Though if you don't have a 4K television, the benefits that the One X brings may not be worth the price tag for you. Even if 1080p screens benefit from the super sampling the One X offers.
More gaming news and coverage
Check out more video game content on Mic. Including which Pokémon are actually the best and why black players can never seem to get custom characters that look like them. Learn more about how blind gamers Overare getting in on the fun and why Injustice 2 is nerfing its female characters. See why we love Twintelle (and why we hate Twintelle) in the upcoming Arms, and don't miss our guide to dodging blue shells in the Mario Kart 8 Deluxe — you can thank us later.