'Beyond Good and Evil 2' Ubisoft E3 2017: Everything we know so far, including a trailer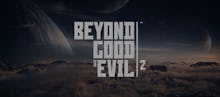 Ubisoft just surprised everyone with a cinematic trailer for Beyond Good and Evil 2 and it looks awesome. Fans have been waiting many, many years for Beyond Good and Evil 2. When Michel Ancel, Ubisoft Montpellier's director, took the stage, he was visibly emotional.
It was an arduous journey for the Montpellier team to finally get the sequel into production. It wasn't until October 2016 that we got wind of Montpellier spinning up development on a project. Fans of the first game had hoped for Beyond Good and Evil 2, but no one had any idea it would take the stage during Ubisoft's E3 2017 press conference.
Here's everything we learned about the upcoming game.
Beyond Good and Evil 2: What we know so far about the prequel
The game features two new protagonists as it takes place before the original game. It's been a long haul to get this game announced, since the first game was released in 2003 for the PlayStation 2, GameCube and Xbox.
As of now, no details have been given for the release date.
More gaming news and updates
Check out the latest from Mic, like this essay about the sinister, subtle evils lurking in rural America that Far Cry 5 shouldn't ignore. Also, be sure to read our review of Tekken 7, an article about D.Va's influence on one Overwatch player's ideas about femininity and an analysis of gaming's racist habit of darkening villains' skin tones.