Is Instagram down right now? What to do when Instagram crashes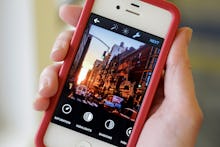 Update: The desktop site and the mobile app started working again around 5:45 p.m. Eastern.
Yep, Instagram is currently down — you're not alone. It's around 5:25 p.m. Eastern on June 12, and trying to visit Instagram.com results in a blank white page that reads "Oops, an error occurred." Loading the app results in a gray bar at the top that says "Cannot refresh feed." While Instagram works on a fix, we've found one workaround.
There are a few things you can do when Instagram crashes. The first thing you should try is going to Instagram.com on your phone and logging in via the mobile browser. This worked for Mic when we tested it out using the Chrome browser for iOS at around 5:30 p.m. Eastern, when the app and desktop page were still down.
If that's not working, delete the app, re-download it from the App Store and try logging back in.
Mic has reached out to Instagram and will update this post with a response when we hear back. In the meantime, commiserate with the legions of people freaking out online:
And don't worry — these outages don't usually last very long.