Report: Alexei Navalny, Russian opposition leader, jailed for 30 days after "unsanctioned protest"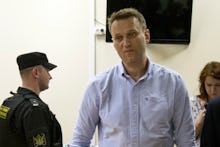 According to the Associated Press, a Moscow court moved Monday to jail presidential hopeful Alexei Navalny, leader of Russia's Progress Party, for 30 days as a consequence of allegedly "staging [an] unsanctioned protest" against the administration of Russian President Vladimir Putin.
The opposition leader's sentencing comes in the wake of a day of massive protests against Putin's Kremlin that rocked Russia's cosmopolitan centers. Though the total number of those arrested varies across publications, according to the Independent, at least 800 people were detained by police in Moscow and about 500 were rounded up at a rally in St. Petersburg.
According to a tweet posted to Navalny's official account by his wife, Yulia, the Putin opponent was arrested just outside his home while on the way to one of the protests authorities accused him of organizing.
In February, a Russian court seemingly effectively barred Navalny from running against Putin by ruling him guilty of defrauding a state company. In Russia, one cannot run for elected office if they have a criminal conviction. Despite the ruling, Navalny assured supporters he would continue his run, claiming that the sentence would be overturned.
At the moment, it's unclear what Navalny's arrest presages about the viability of his presidential campaign.
The Monday protests, which galvanized a reported tens of thousands across the nation to attend any of over a hundred demonstrations that aimed to criticize corruption in Putin's administration, coincided with Russia Day, a national holiday that celebrates the adoption of the Declaration of State Sovereignty of the Russian Soviet Federative Socialist Republic.
June 12, 2017, 6:35 p.m.: This story has been updated.