'Far Cry 5' Gameplay Dog: Boomer, the cult-fighting pup revealed, and the internet already loves him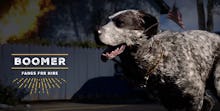 Far Cry 5 got its first gameplay trailer on Monday during Ubisoft's E3 2017 showcase. There was a lot of cool stuff to see in the 3-minute video, but none of that matters because we now know you can enlist a dog to help defeat the the apocalyptic religious cult featured in the new game.
That's right, Far Cry 5 will introduce us to Boomer, a heroic dog that can take down cultists and retrieve their guns for you. He's described in the trailer as "fangs for hire," though it's unclear what kind of payment this pup will require in exchange his loyalty.
Far Cry 5 gameplay: Meet Boomer the dog
Unsurprisingly, the internet is going crazy with excitement over the news. If you were on the fence about Far Cry 5 before this might be enough to win you over.
Boomer is clearly a very good dog.
One person even suggested Boomer could put an end to some of the deeper issues on display in Far Cry 5.
However, most of Twitter was happy to simply celebrate the new addition to the series.
At the very least, Boomer's appearance in Far Cry 5 proves that the new game will be superior to another upcoming Ubisoft release, Assassin's Creed Origins, which introduces cats in its new Egyptian setting. That would be fine in any other year, but there's no way a few stray cats can compete with Boomer.
More gaming news and updates
Check out the latest from Mic, like this essay about the sinister, subtle evils lurking in rural America that Far Cry 5 shouldn't ignore. Also, be sure to read our review of Tekken 7, an article about D.Va's influence on one Overwatch player's ideas about femininity and an analysis of gaming's racist habit of darkening villains' skin tones.