'Hot Mic': Trump's travel ban blocked, COVFEFE Act and Jeff Sessions' testimony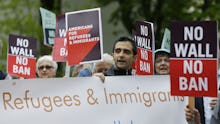 Listen and subscribe to the Hot Mic podcast from your mobile device:
Here are the important stories to get you caught up for Tuesday, June 13:
1. A three-judge panel on the 9th Circuit Court of Appeals once again blocked President Donald Trump's travel ban, ruling that the order "exceeded the scope of the authority delegated to him by Congress."
2. Rep. Mike Quigley (D-Ill.) introduced the COVFEFE Act which aims to preserve President Donald Trump's tweets.
3. What to expect from Attorney General Jeff Sessions' testimony before the Senate Intelligence Committee today as part of the investigation into Russian interference in the 2016 election.
Direct from Mic's newsroom, Hot Mic keeps listeners informed with a daily run-down of top stories, breaking news and analysis from our news team.