Report: Donald Trump is considering just firing special counsel Robert Mueller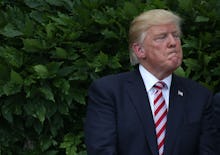 President Donald Trump is weighing just firing Robert Mueller, the special counsel appointed by the Department of Justice to investigate Russian interference in the 2016 elections and whether Trump is connected to it, Newsmax CEO Chris Ruddy told PBS' Judy Woodruff on Monday.
"I think he's considering perhaps terminating the special counsel. I think he's weighing that option, I think it's pretty clear by what one of his lawyers said on television recently."
"I personally think it would be it would be a very significant mistake, even though I don't think there's a justification ... for a special counsel in this case," Ruddy added.
Ruddy's media company leans far to the right, and he is widely known as a personal confidant of the president. Adding some credibility to his account, CNBC's Kayla Tausche reported she had spotted Ruddy leaving the White House's West Wing just hours before his interview with PBS.
Firing Mueller would perhaps be an even more explosive move than the president's prior decision to fire FBI Director James Comey, who was overseeing that agency's separate investigation into Russian interference. It would immediately create even more suspicion the president is simply axing anyone who gets too close to a full understanding of his much-rumored ties to Russian operatives intelligence agencies say released embarrassing materials about Democrats during the elections.
Politico's Josh Dawsey tweeted, "White House officials are trying to tamp down Chris Ruddy's TV comments about Trump possibly firing Mueller. They say it's unlikely ... problem for White House officials saying Trump won't fire Mueller, as Ruddy said may happen, is they have little idea what he will do."
Rep. Adam Schiff, who is part of the House Intelligence Committee's own investigation into Russia, shot back at the idea on Monday evening with a warning.
"If President fired Bob Mueller, Congress would immediately re-establish independent counsel and appoint Bob Mueller," Schiff tweeted. "Don't waste our time."