'Detroit: Become Human' Sony E3 2017: Trailer, gameplay and story revealed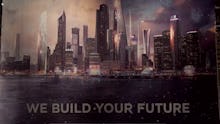 Detroit: Become Human, the latest project from Quantic Dream, first captured our collective attention back in 2015. It has an anticipated release date of, well, sometime in 2017 — or maybe later.
Thankfully, during the Sony PlayStation E3 2017 press conference, we got some confirmation on what we can expect from Detroit: Become Human, along with a few amazing new visuals to keep us happy until release.
Check out the trailer:
The Detroit: Become Human features the very attractive Jessie Williams leading an android revolution. The game seems to involve an integral and extensive morality system with situations and important choices. In addition, there is a heavy activist/revolutionary theme to the entire preview.
Unfortunately, no release date was revealed during the E3 2017 press conference.
More news from Sony PlayStation E3 2017
Check out more of our coverage from the PlayStation E3 2017 press conference, including the sweeping new Shadow of the Colossus remake, gameplay for Days Gone and a look at Monster Hunter Worlds. Don't miss the breathtaking cinematics from God of War 4 and the show-stealing game Spiderman.